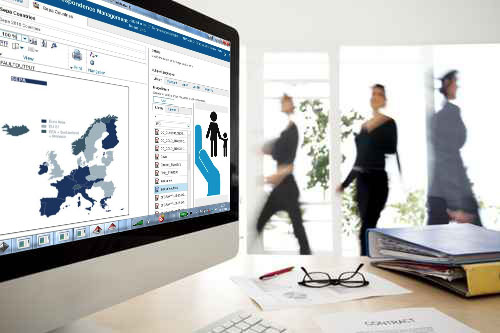 Platform Capabilities
Client Challenge
Every corporation is expected to provide first-class service and transparency in all aspects of business relationships with customers. Information that is not only highly personalized and easy to read and understand but also accurate and timely is essential for all business communication with customers. Customized 1:1 documents - such as statements, reports, bills, policies, contracts, business letters - that reflect a consistent corporate design, look and feel for high-volume batch, online, ad-hoc and user interactive applications play an important role in maintaining customer satisfaction and loyalty.
Equally important, efficiency in producing these multichannel documents with the appropriate content, text, tables, graphs and charts to support business data results in critical cost and time savings in a cross-platform delivery environment.
Finally, a managed and controlled process allowing business departments to interface with IT when defining document content and business rules speeds time to market when implemented via a WebPortal with an easy-to-use GUI.
Offer Description
Consolidation: The Papyrus Customer Communication Platform enables corporations to consolidate all types of document output (high-volume batch, online, user interactive and on-demand) on one platform. All generated building blocks (data, text, tables, images, etc.) can be reused across all document types. Corporate design and identity is guaranteed. Business teams are empowered by the Papyrus Correspondence Framework Solution to generate content and assemble complete mailings. IT works in collaboration with the business teams sharing data, content, document building blocks and resources from a common central WebRepository.
Data interface: Papyrus can accept any data file, structure and sequence (ASCI / EBCDIC / fixed length, delimited, Cobol, etc.) directly without manipulation or data tagging in Papyrus Designer and in the DocEXEC formatter. Besides the visual definition of variables in the Designer there are direct XML and HTML-in capabilities. Papyrus supports files and messages (MQ/SOAP/HTML/REST) with loosely coupled interfaces via SOA Adapters, where no API programming and compilation is needed. Neither are these Adapters platform dependent. For database interfaces, Typemanager interfaces supporting Oracle, Db2 and SQL Server are available.
Design: The Papyrus Designer has powerful graphical design capabilities integrating data, logic, layout and resources and is typically used by IT. The Papyrus Client/Desktop executing the Papyrus Correspondence Framework Solution is used by the business administrators and users in a WebPortal managed by their security profile and user roles. Interactivity is built into the document architecture. Every document can be selected as interactive with prompt requests or just used in batch without interaction by a user.
Document Collection: The powerful Papyrus Document Pool lets enterprises collect over time all formatted documents (AFP, PDF, TIFF) coming from Papyrus and other sources for bundling, sorting and by re-composition, adding additional information for optimized output management at time of delivery to print, e-channels and mobile.
Manage: The Papyrus Automated Document Factory for job/spool/queue and multichannel output management lets corporations manage their complete output from the data to the archive on a GUI. All activities can be tracked, traced and audited, end to end. Security is integrated functionality of the platform, NRL editing and state-and-event-driven processes are further important platform features.
Efficiency comes by having ONE set of tools and definitions to develop these document applications, an adapter technology to easily integrate with any business application data and backend system and central resource management and deployment. Reusing building blocks and logic, every document can be interactive, documents can be collected in a central Pool over time and highest fidelity on every print and e-delivery output channel is guaranteed.
Lifecycle Management: The Papyrus WebRepository manages all application definitions, rules and user interfaces over the lifecycle. It is a central object metadata Repository for one-time installation, administration, and deployment, change management, versioning, tracking, tracing, monitoring, reporting and end-to-end auditing.
Link to Inbound: The Papyrus CCM Platform integrates seamlessly with Document Capture for all inbound mail channels. The Papyrus Platform closes the communication loop by tracking responses from incoming communication. All documents and messages generated can be directly used by the business teams within a customer case.
Product Configuration: Document Design and Formatting
Papyrus Designer Package
Document design, data variable definition, complex logic definition
Papyrus Client/Desktop
Business and marketing users define content of building blocks – text, tables, signatures incl. spell-check and hyphenation
Papyrus WebRepository
Central management, administration and control of all users defining business document building blocks and layout, data and logic, versioning, validation, auditing, process management, sign off, change management
Papyrus DocEXEC
High-speed formatter for batch, online and user-interactive documents on 11 platforms generating AFP and PDF formats with indexes, OMR and barcodes, table of contents, page sorting, print last page first, etc.
Services estimated:
Corporate document design Scoping: 3 days
Proof of Concept: 2 weeks
Implementation Support and Consultancy: 3 to 5 weeks
Training:
Papyrus Designer Workshop - 5 days
Objects Developer Workshop - 5 days
Objects Administrator Workshop - 5 days
Optional Components Digital Mailroom
Papyrus digital mailroom for outbound addresses the full spectrum of delivery channels - e-mail, web-delivery, fax, print and mail - including archiving. Print and mail with Papyrus benefit from one of the strongest automated document factory (ADF) implementations currently available, reducing manpower, minimizing errors and increasing throughput. Advanced bundling of different documents enable arrival at different times into one envelope, intelligent insert management and certified postal sorting for postal discount.
Papyrus PrintPool
Bundling, sorting and merging of different output documents generated at different times into one envelope per addressee, with mail optimization for best mailing discounts, i.e., priority mail, sort upon specific criteria, optional print or Web presentment, fax and e-mail SMTP and more
Papyrus WebArchive
Short-term and long term storage and retrieval, plus fast search, viewing and reprint of documents, fax and e-mail
Papyrus Server
Printing AFP and PDF to all standard laser printers on the market, e-mail and fax