A Personalized and Connected Experience
Whether you are trying to handle a request, improve the contract process in sales or purchasing or you are onboarding a new client or employee, the activities are inherently collaborative. Creating, revising, reviewing, approving and signing contracts are tasks that often involve two or more people. Such process-driven collaboration is typically linked to fillable business forms and interactive business documents. Content is drafted, saved and organized with metadata and often requires multiple revision cycles before it is considered complete. The automated and ad-hoc tasks and activities that users need to perform to achieve a common goal are managed by the Papyrus software platform.
Use Cases: Self-Service | On-boarding | Request Handling | Claims | Contracts | Registrations
Papyrus Ad-Hoc Business Correspondence in Client/HTML
Move your Business Forms and Business Letters to the Web and Mobile devices.
Experience Low Effort and High Quality.
Values delivered:
Quickly create and migrate your fillable paper & PDF forms, Word documents and their workflows
Apply reusable building blocks and global template changes
Save maintenance cost by reducing the number of templates to 1/4
Business can serve their own needs avoiding external services and delay in time-to-market
Maintaining consistent customer experience
No more sending emails with attachments and paying for each envelope
No need for costly and lengthy Java programming
No more browser plug-in dependencies
Business Correspondence can be Fully Automated and Real-time
The Papyrus Platform provides full support for Web Applications and delivers electronic forms and PDF documents including URLs and QR codes and form fill definitions. Web users can request documents directly from a web form hosted on a company-specific Web Portal. All data collected from the user's form filling and each click on a URL, is captured instantly and the document is composed on the server-side to be returned directly and immediately to the user's Web browser in PDF or HTML format. Due to the processing nature of the Papyrus system, any other action can be initiated in parallel if desired, such as automatic notification to the employee/department in charge, additional document printout and delivery per mail, etc.
Interactive Business Correspondence is Driven by Workflow
The Business Analyst quickly defines processes and rules, creates or migrates fillable forms and interactive business documents to the platform that connects everyone in an organization. The central WebRepository manages users, content and processes from creation through review and correction, approval and release to signing. There is no coding. Business can serve their own needs avoiding delays and inefficiency. All PDF and HTML forms and their process templates become reusable building blocks, saving on maintenance costs for global template changes and reducing the number of templates to ¼ or less. Users work via desktop, browser or mobile based on the platform's strict security access control.
Connecting Everyone in an Organization
Customers, Consumers, Partners, Agents and Employees
Each Actor can provide feedback filling the related form section
Connect front office with back office | Access from desktop, browser and mobile | Integrated workflow design with instant execution | Digital signature and blockchain | Omni-Channel

Use of Strong Business Design Capabilities
Creative Designers define and manage the creation of user-interactive documents and fillable business forms and the associated workflow enabled by an all-in-one platform approach through the reuse of versioned building blocks from a single library. Every building block can be defined as a prompt for free text entry with a choice of variables, and selection of building blocks is offered to the user by the creative designer. Building blocks can trigger certain rules, which are then executed.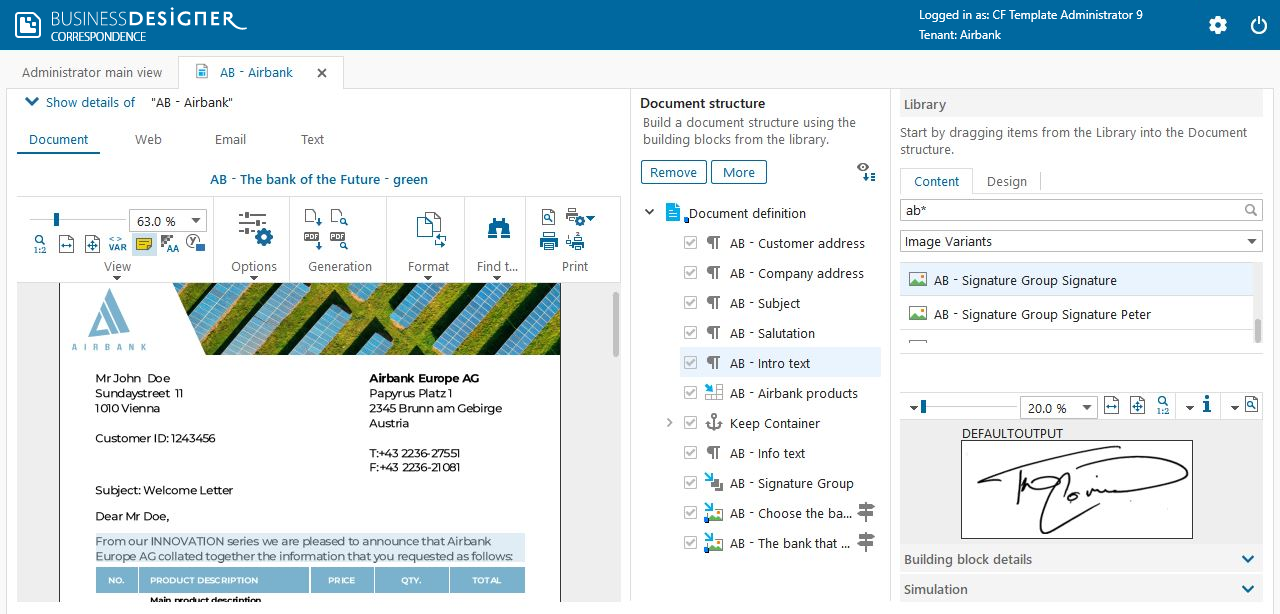 Every business document can be enabled for free text entry and with variable selection prompts
Interactive Business Correspondence
Interactive Document Writing
Interactive document writing is supported by "In-document editing" and the Papyrus Correspondence Wizard, which helps the user make choices and decisions and automatically creates complex documents step-by-step, tailored directly to the cleint's needs and ensuring there are no errors or omissions.
Depending on the requirements of the application, end-users can trigger the document creation process by selecting a specific document template from the document template library or receive ready-made, instantiated documents in their inbox. They can enter variable data, select/deselect document building blocks, perform editing of requested parts, insert personal building blocks, etc., depending on their rights and document settings defined by the template administrator, with the rest of the document locked for changes. Papyrus provides control over which paragraph or variable can be edited and which font, color, style, etc. can be used. The output channel can be freely selected (central or local) and the inserts can be attached to the document.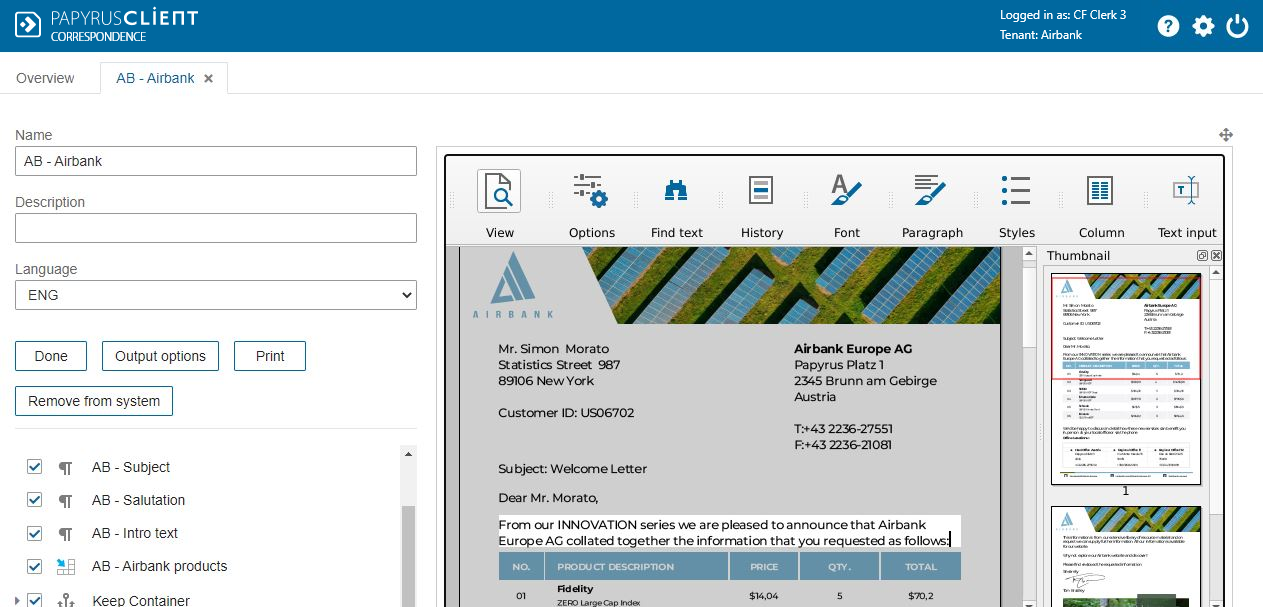 The end user can have a choice of building blocks, free text editing and variable selection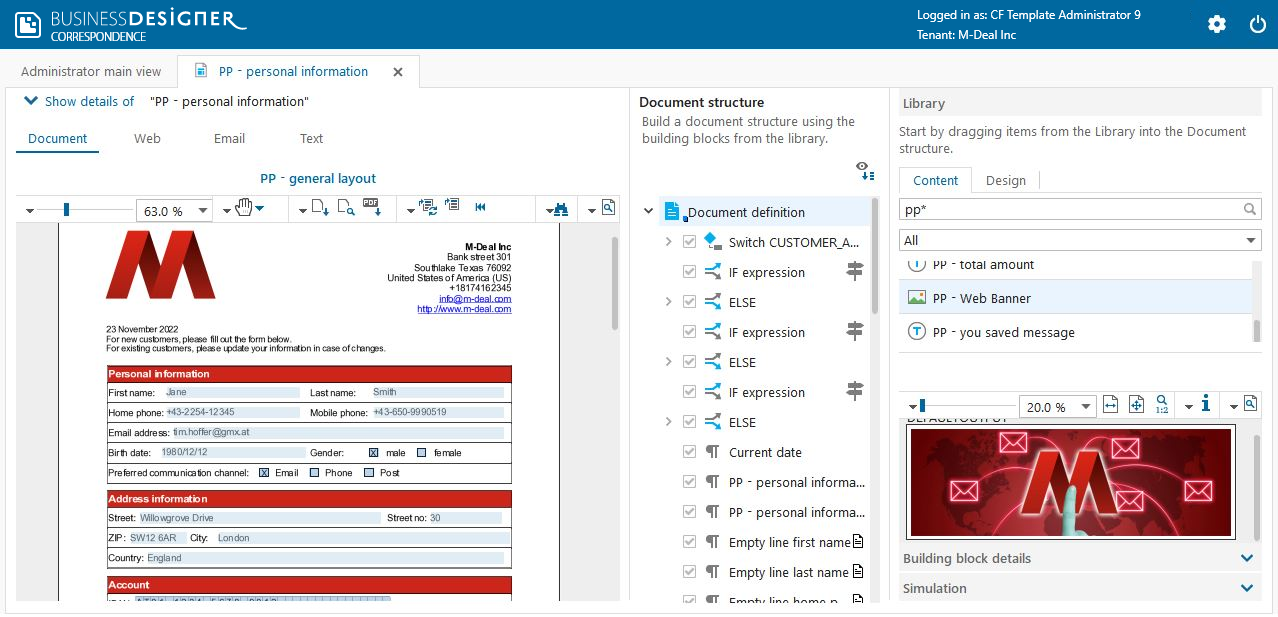 Creation of interactive and fillable PDF forms in interview style with the help of a wizard
The Papyrus Wizard
The Papyrus wizard supports the user in creating documents by guiding them through context-specific questions, choices and decisions. It dynamically connects to various back-end services and provides data in real time, recording all the user's decisions and automatically compiling the highly personalized document step by step, taking into account all relevant regulations and avoiding possible errors or omissions. The complexity of this task is completely transparent to the user.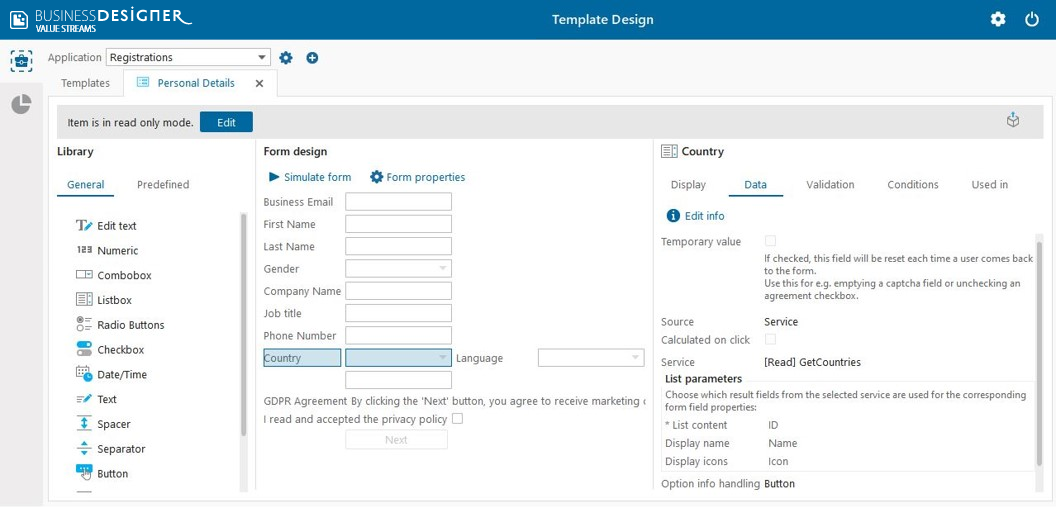 Creation of interview-style wizard driven HTML forms
The completion process in a portal or on mobile by customers, employees and agents is guided by answering wizard-driven questions. This activity is error-free and supported by pre-populating the document with relevant personal data from the backend application.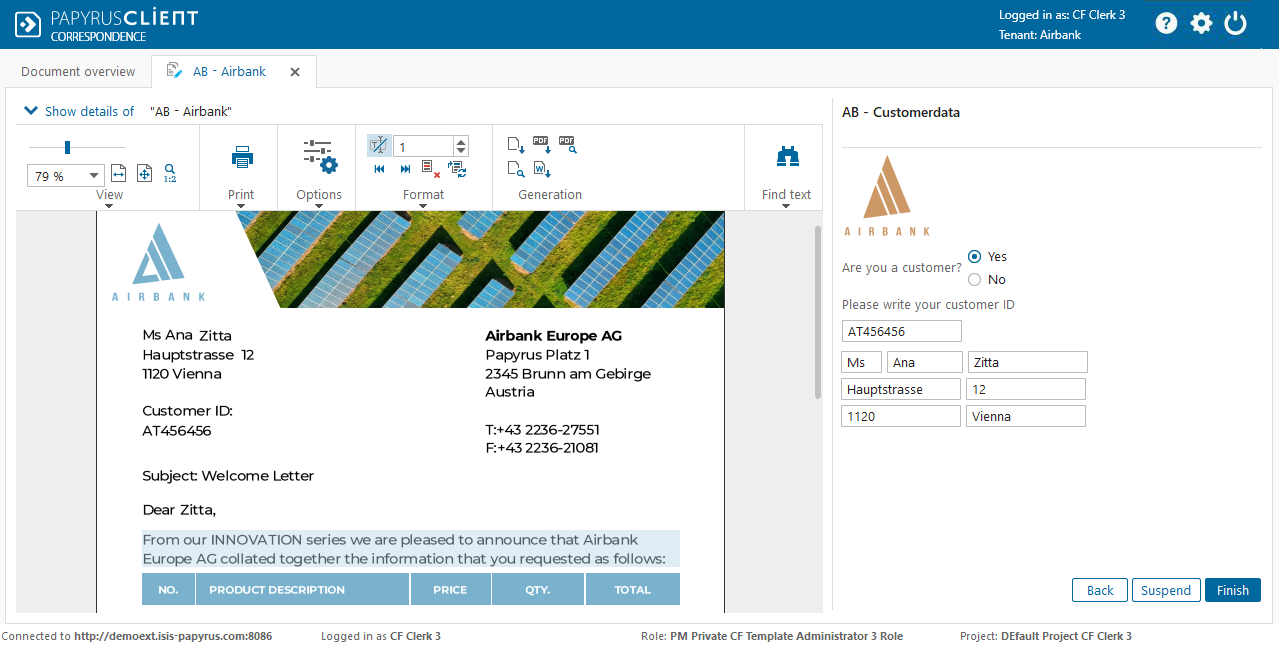 Dynamic data retrieval supported by Papyrus WebServices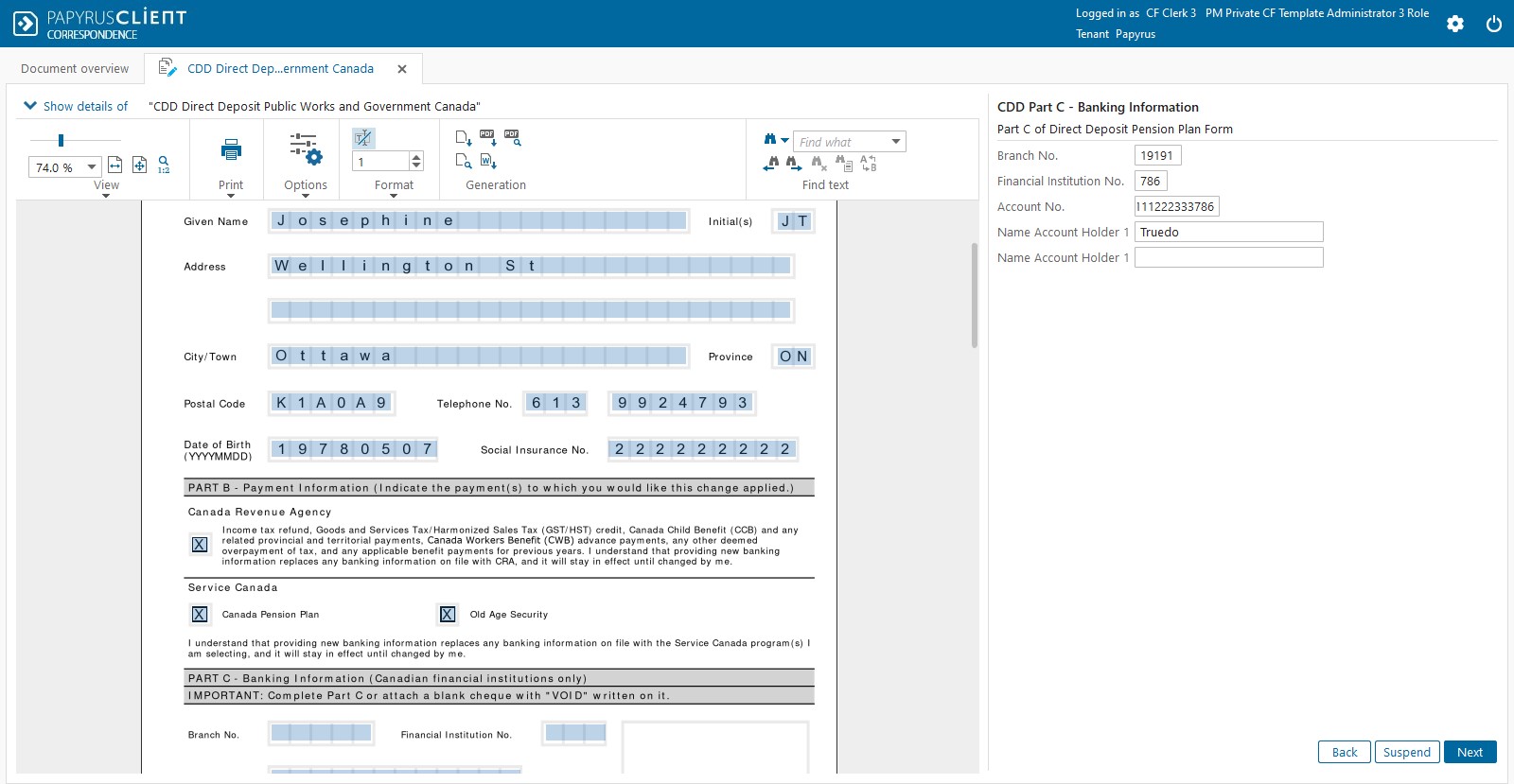 Import of PDF form for automated and manual filling
From Print and PDF forms to Web forms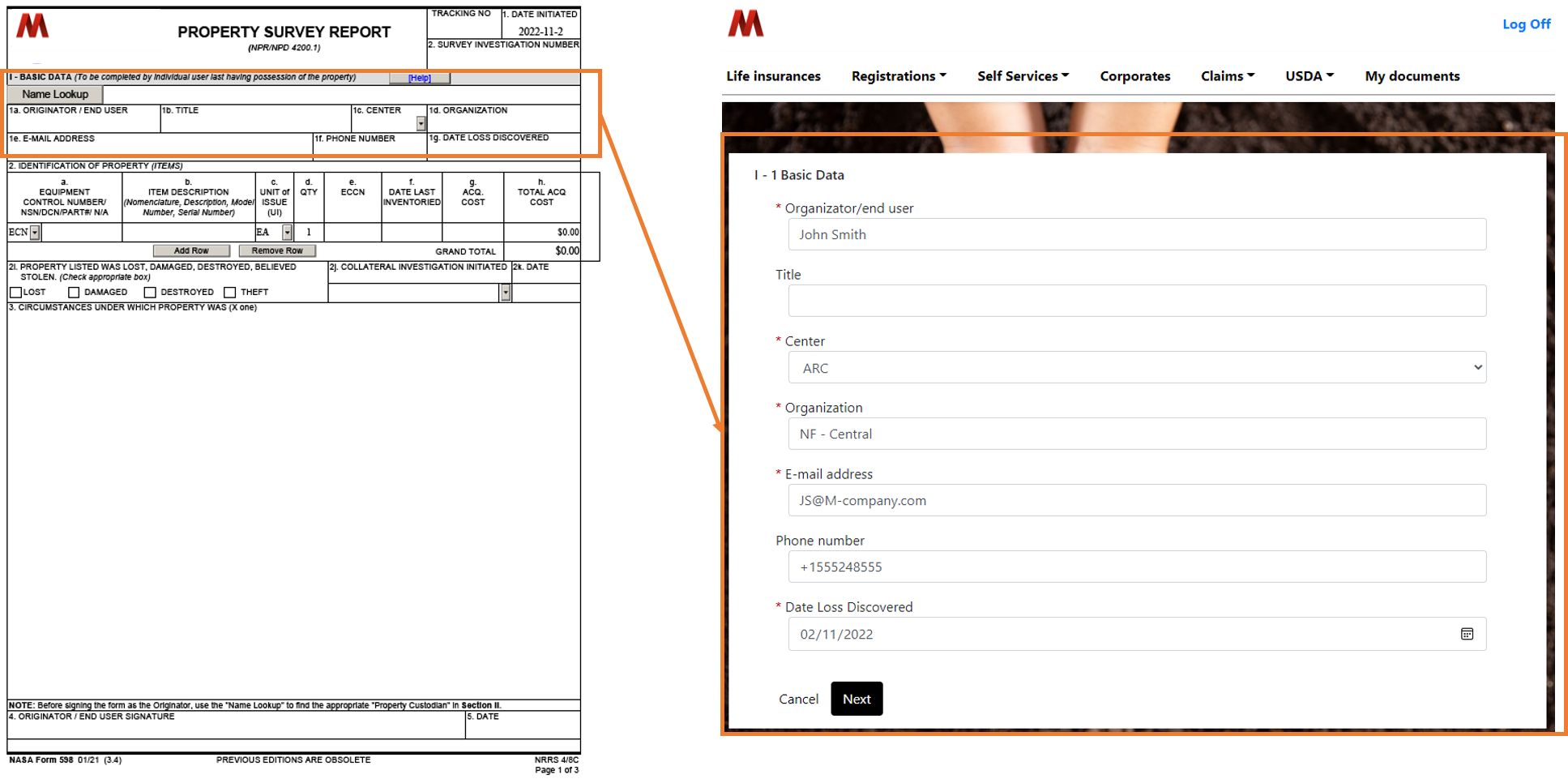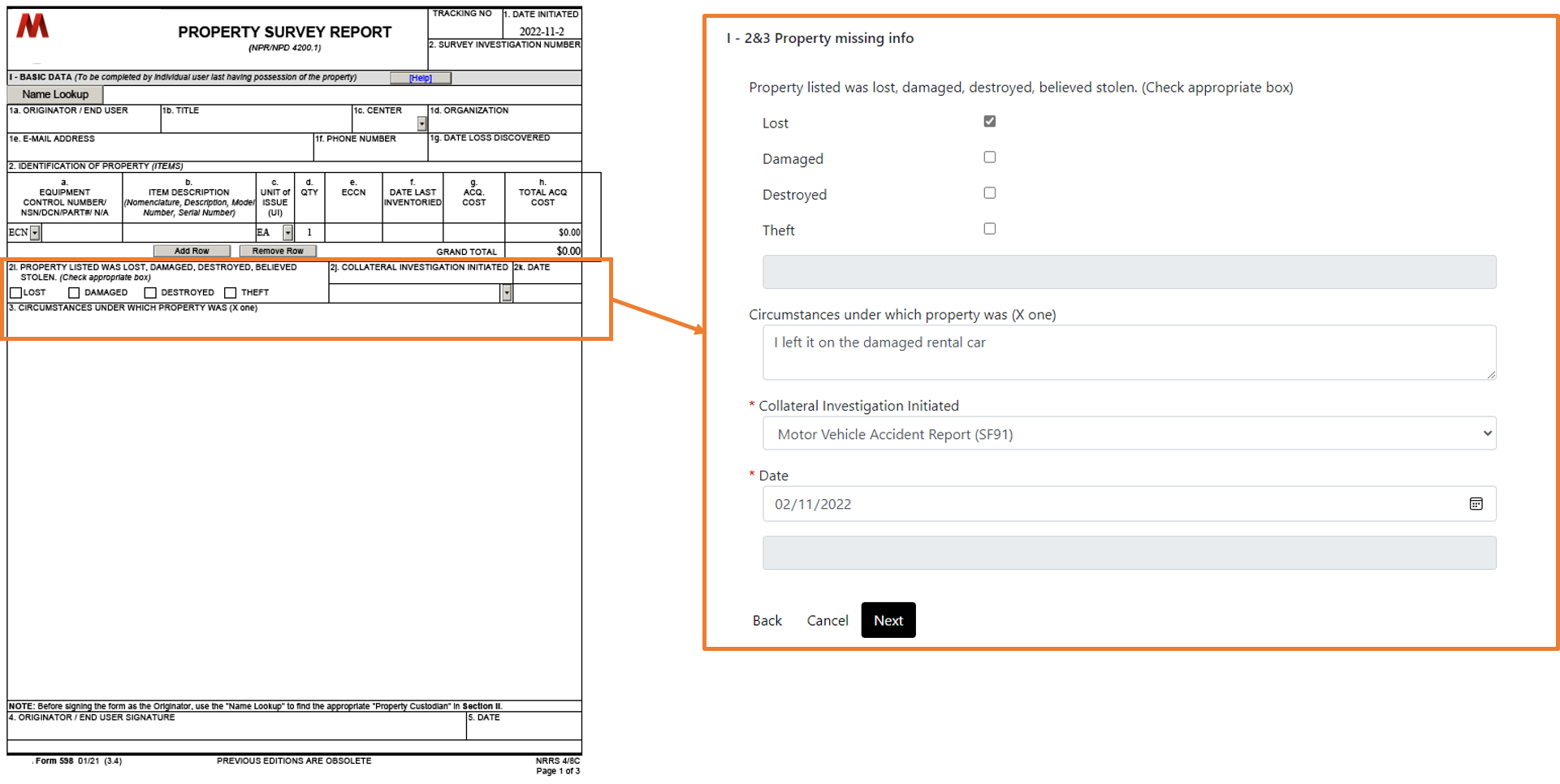 Integrated Multi-channel Output Management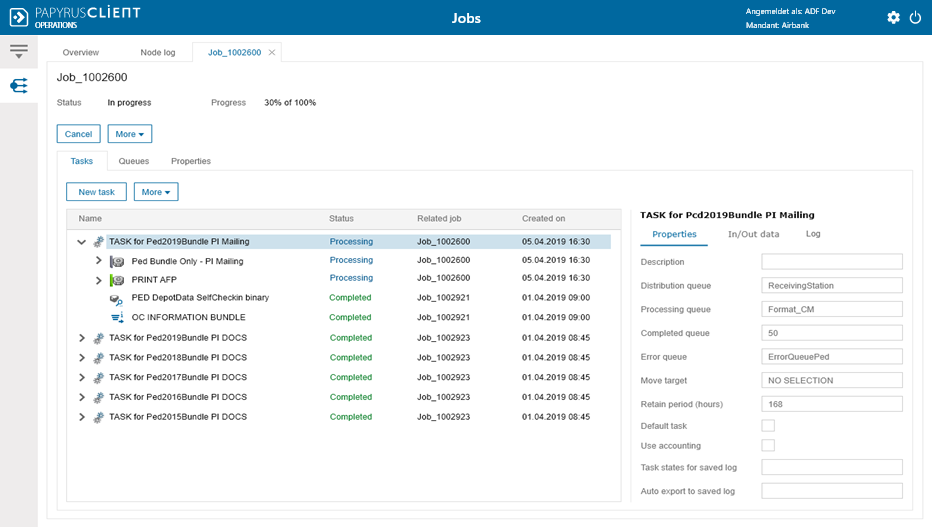 Operator dashboard
Deploy your Business Value Streams
A value stream typically starts with an incoming request – this can be incoming via your portal, mobile app or any other channel, including a printed letter. You need to be open to all these channels and provide smart, engaging experiences with interactive forms, videos, live chat and chatbots, wizards and any other means to help customers quickly navigate and enter data, photos, documents and information you need to successfully deliver value. Customer requests can be handled in an automated way, or they may require human judgment and tapping into the knowledge and expertise of your employees and teams who have the right skills, availability and authority to handle specific types of requests. Work does not need a predefined flow, it requires clear goals and authority assigned to a specific performer.