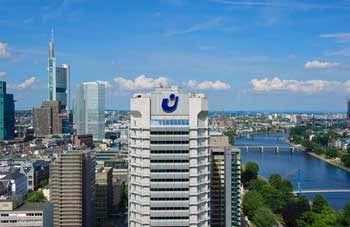 Extending Marketing Reach with Targeted Messaging
Campaign management capabilities enhance revenue opportunities for multichannel statement delivery
The Business
Union Investment (Union Asset Management Holding AG) is the investment arm of the DZ Bank Group and part of the cooperative financial services network. Headquartered in Frankfurt, Germany, and founded in 1956 by 14 credit unions, Union Investment is today one of Europe's leading asset managers for private and institutional clients. Union Investment offers a wide range of investment solutions: equity, fixed-income, money market, alternative investments and quantitative structured funds. With more than 2,400 employees and 1,100 Volksbanken branch offices, the company has grown into a leading international asset manager with retail funds licensed for sale in many European countries.
The Challenge
Starting with a goal to provide easy, readable and understandable investment statements, the Marketing department at Union Investment wanted a Campaign Management solution allowing them to directly influence the content and conditions for variable marketing messages to be placed within regularly scheduled customer statements already produced with the Papyrus platform.
To support both multichannel customer preferences and regulatory compliance requirements, Marketing outlined three (3) types of messages to place in automatically generated transactional statements, based on variable conditions:
Static attachments, such as Terms and Conditions
Dynamic attachments with prefilled forms
Static, preprinted inserts driven via OMR/barcode
With Papyrus WebRepository and Papyrus DocEXEC already in use at Union Investment, the company now needed a strong user interface to manage (IT) and generate (business) standard Papyrus Designer documents today – using Marketing-generated messages – and to later facilitate implementation of a full Business Correspondence solution.
Key requirements for Targeted Messaging included:
Campaign management for variable message placement
Flexible template design to accommodate conditional, variable messages
Versioning, validation and review/approval of content (messages) in marketing
Relative spacing for message selection "to fit"
Message selection by inventory, weight, size of inserts (postal)
Impact evaluation reporting - reach of message selection
Campaign tracking – message hits, attachments sent, clicks (customer/document)
---
The Solution
Union Investment selected ISIS Papyrus because of its transpromo, output management and multichannel delivery capabilities to maximize message flexibility, document control and reporting in the new solution:
Proven experience in powerful document design, formatting and generation
Breadth of Papyrus end-to-end document capabilities, including WYSIWYG Designer, change management, workflow automation and multichannel delivery
Scalability to fully implement integrated, multichannel Business Correspondence when ready
With a modest addition of Papyrus products, training for selected users, and expert support to implement the Papyrus Targeted Messaging Framework, the new solution allows Marketing to not only strategically manage campaign content and timing but also to maintain a constant stream of potential new and additional products to the customer through very specific targeting and placement variables.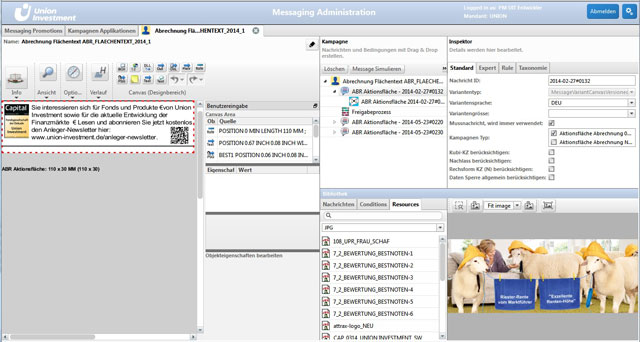 Business users design message content and conditions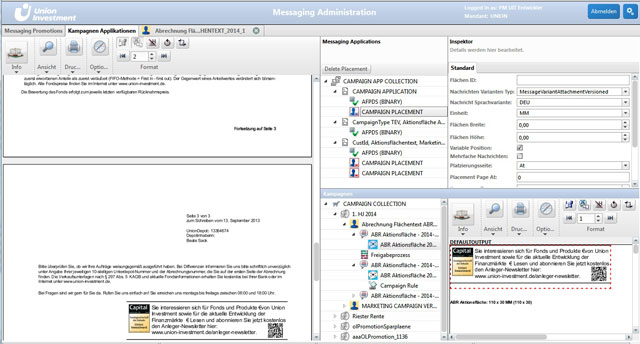 Message simulation to verify the appearance in business documents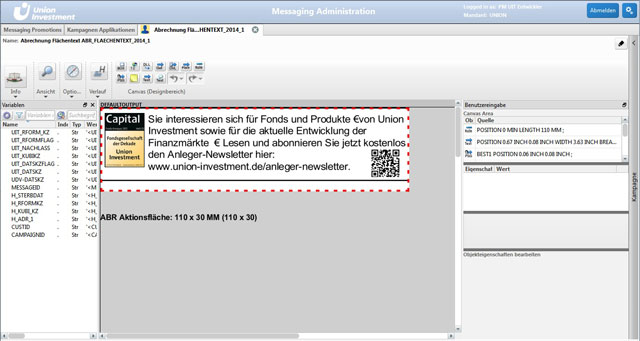 Message design with drag-and-drop of resources and using dynamic document variable content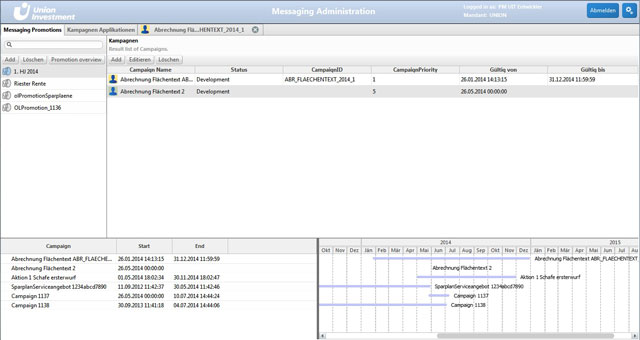 Campaign planning and schedule overview
The Marketing team now enjoys additional business benefits from the updated Papyrus technology:
Direct and immediate influence on the customer's document and visual representation
Support for upselling for new and additional products, based on availability and relevance
Full review & approval cycle for marketing building blocks, attachments and inserts
Segmented targeting via conditions to separate customers sourced internally and via partners
Efficiency in resource management for insert materials
Cost reduction in reduced mailings of mandatory documents with the regular statements
The Union Investment Targeted Messaging solution handles not only standard DocEXEC/Designer documents but also delivery formats including e-mail, CMS and other output channels as needed, and the platform is primed for adding Business Correspondence whenever the business team is ready.