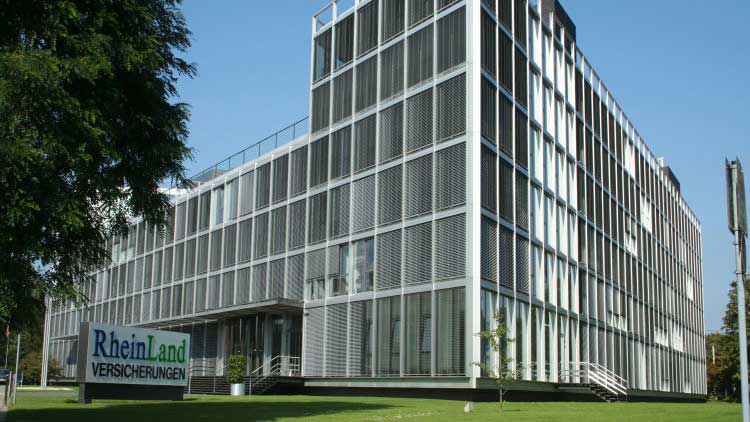 Migration to Modernize Insurance Correspondence
Document portal enhances corporate identity, efficiency and usability
The Business
Established in 1880, RheinLand Insurance is one of the very few insurance groups today with a majority of shares privately owned. With roughly 880 employees and 350 sales representatives on a full-time basis, RheinLand, its subsidiaries and a brokerage and banking division together offer a wide range of private and business insurance offerings. Cooperation partners offer insurance products for healthcare and legal costs. RheinLand Insurance services approximately 2.5 million customers with premiums of €723 million. Subsidiary Credit Life in Venlo/NL provides customers in different EU countries with life and residual debt business.
The Challenge
Central production of all letter correspondence for RheinLand Insurance was on the mainframe using IBM ASF and DCF. ASF applications were used either standalone or integrated into the company's damage dialog system. On average, 300 users produced 1,300 documents per day with peaks of 2,500 - and printing was available centrally or on department printers. There was a COLD interface connected with the document management system.
A preliminary study and selection for a follow-up product was initiated in 2006 for the migration of existing letters (1,000 letters with 7,500 text blocks) with some automation. The strategic decision was to retain AFP, particularly because documents in mass printing (bills, policies) were also using the AFP architecture.
---
The Solution
In addition to the existing Papyrus products used for batch mass production, RheinLand installed Papyrus WebRepository and Papyrus Clients and then completed both proof of concept for the new Business Correspondence system and a first pilot GUI in 2007, with the help of ISIS Papyrus consultants. Conversion modules were established for letter definitions and the elements saved in ASF, and the converted DCF-to-DFA code was closely reviewed to ensure the structure of the existing documents was maintained in the migration.
Migrating ASF/DCF to Papyrus
The letter migration, as well as enhancement of the portal GUI and integration into other applications, took place in three phases:
Letters concerning life insurance and financial accounting

Letters concerning combined insurances

Letters concerning damage dialog system
Through this gradual introduction, RheinLand Insurance gained relevant experience with the capacity and functionality of Papyrus WebRepository that enabled them to optimize on every level for key advantages:
Achieving corporate identity - proportional fonts conform now with the mass print

WYSIWYG display including overlays (up to now not possible in 3270-emulation)

Spell-checker within letter development and the entry of free text

Options for formatting within free text

"Four-eyes" principle on Web GUI without paper output
The data acquisition interface for ASF was connected and optimized with the RheinLand systems through the Papyrus interface. Furthermore, the trigger for letters, which are partly also produced in 'batch', was enabled through the Papyrus XML Adapter with the pre-existing systems.
The strong integration into the RheinLand damage dialog system (i.e., with response of the print status) made it essential to have different mechanisms to communicate via Windows between the mainframe surroundings and the ISIS Papyrus products.
RheinLand Portal and Desktop GUIs

With the Papyrus products RheinLand was able to define GUIs for business users not using a Designer workplace.
Portal applications
Letter Portal

Change Management

Print Management (View on the PrintPool)
Desktop applications
System Operator - Management of Queues and Tools

Web Operator - Management of the Web Server
Migrating Word Templates to Papyrus
Besides switching from ASF/DCF products in 2011, the project included moving roughly 120 Word templates into the new document system called RheiKos (RheinLand System of Correspondence).

These templates were established in the business departments apart from the mainframe
solution. In the future, more letter templates will be developed and used througWebRepository.
The Future
Further expansion will also occur in the linkage of distribution via e-mail, fax or postal letter, as well as in meeting a request for a decentralized building block management in the business departments.