Payment Collection: Improve Cash Flow
E-invoice/E-billing: Accelerator for Digitization
Support for a multi-channel automated payment collection process
Key Benefits:
All data needed is available via backend system
Bill design, high-speed formatting, print and e-delivery, archiving
Automatic, time-triggered collection process with reminders
Integration with existing payment database
Email links connect to original invoice
Automatic mailing process through multiple channels with A/B testing
Bill design by business teams in collaboration with IT
Smart modern bill design 'drag & drop,' with targeted messages, links with response management
Change and Release Management allows to deploy document changes at any point in time
Single template with reuse of building blocks for all document formats (print/web/PDF/email)
Unified design for Batch, Online, Interactive, On-Demand
Document Wizard for process-driven business letters
End-to-end automation with output management, print and e-delivery, archiving and reporting
Notification and alerts
Supports all data formats, structure, sequence, file, database and message – not only XML
'Automated Collection Process' improves the payment circle, cash flow when sending large quantities of bills (business to business and business to consumer)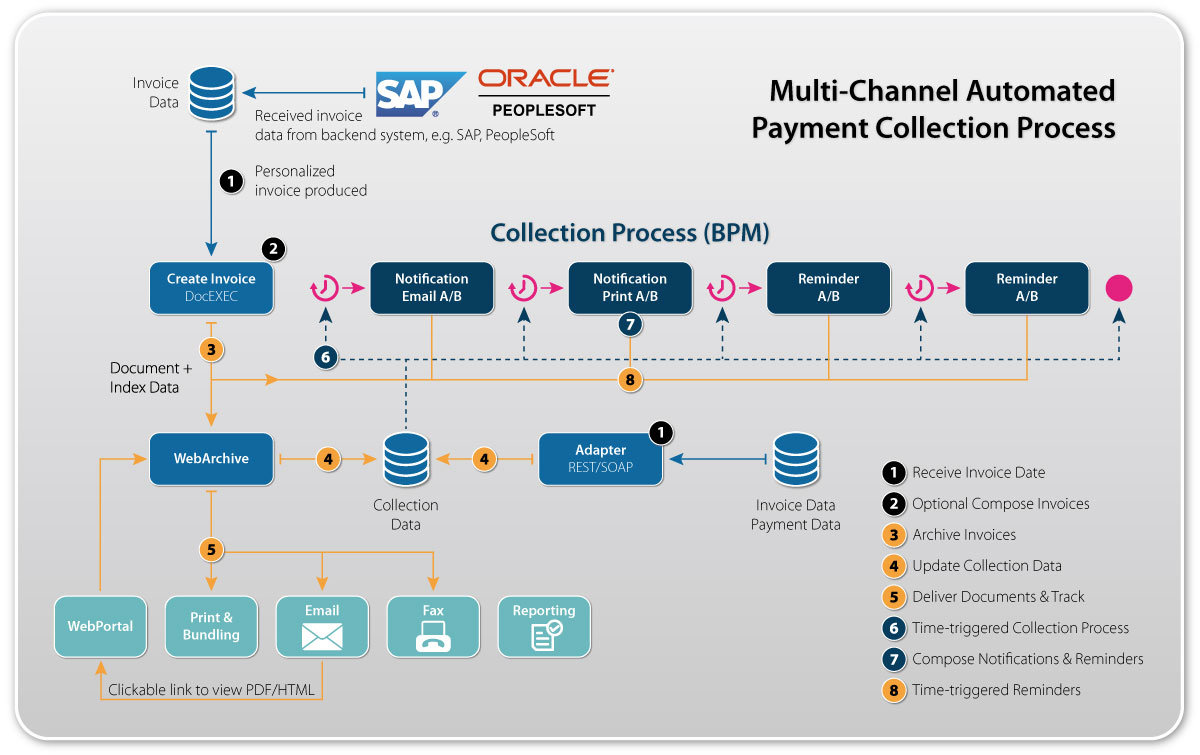 Billing and payment notification/alerts can be sent through multiple channels, runs every day, selects almost-due invoices and includes A/B testing for checking the best notifications in order to optimize the payment.
The Papyrus Software solution provides integration with payment data (SAP, PeopleSoft, etc.) and a mailing process completely automated by rules, channels and content (A/B choice).
There is no programming at the customer site, but only configuration work by your team or our consultant. Link in email connects to original invoice that is monitored for number of clicks and views. Customers can perform immediate payment service online.
Reports based on this data are easily created in the integrated Reporting Framework to monitor and improvement payment date, record days overdue and much more.