Client Challenge
Highly personalized mass mailings to customers must contain business and customer data from different databases and platforms. Ideally, business departments are responsible for creating the document templates with approved content that often must go through sign off processes before final formatting, printing and mailing. Using a central output management system is often the best way to achieve cost control and efficiencies from process automation.
Offering Description
The Papyrus Mail Merge Business application uses Papyrus Adapters and Typemanagers to loosely link to databases and business application data. The developer works with Papyrus Designer to define the data variables and complex logic for the documents, with the capability to personalize every sentence down to the last word or data element. Business administrators define the document templates and content for building blocks (text, tables, etc.) and select resources (fonts, forms, logos) available in the resource collection accessible from the WebRepository. Depending on a user's authorization profile, he or she can set up sign off processes and define business rules using the natural language rule editor of the Papyrus System.
To send the document - a letter, an invitation or maybe even a proposal - to more recipients, the Mass Mailing Wizard is available to reuse recorded activity. The user selects the template, recipients, electronic attachments, physical inserts and delivery channel(s), and Papyrus performs the appropriate formatting and requests supervisor approval before the Mass Mailing is distributed.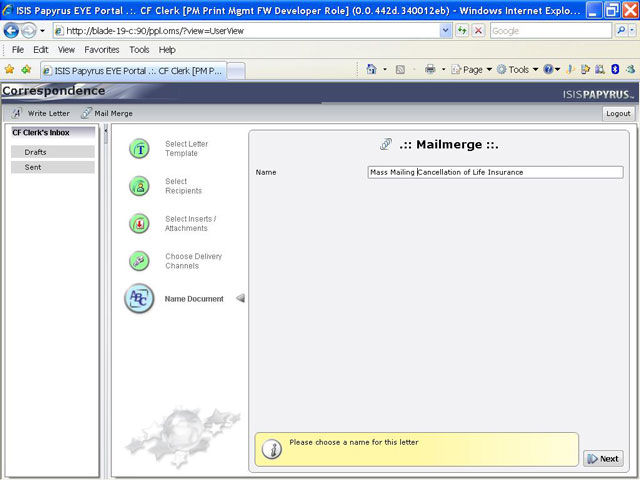 Mass Mailing Wizard - Name the Mass Mailing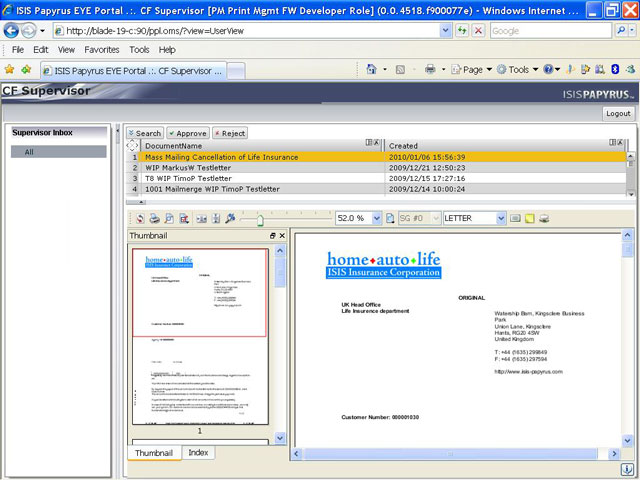 Mass Mailing Wizard - Supervisor Approval for Mass Mailing
Central output management
Letters and other mailings are centrally formatted in batch by the DocEXEC formatter in AFP and PDF including indexes. They can now be transparently printed, emailed, faxed and archived. OMR and Barcodes may be added to letters for enveloping machines and possibly including attachments. All documents are archived when distributed, enabling Customer Care personnel to quickly find all delivered documents for viewing or reprinting.
Value Delivered
Key Benefits/Value
Fast creation of mass mailings by business users in different locations and departments
Full control over content and layout of mailing, including sign-off processes
Integrated output management enables OMR and Barcodes, bundling and sorting
Free selection of output channel – print and/or electronic delivery
Substantial cost savings using centralized, high-speed print and automated mail
Product Configuration: Mass Mailing/Mail Merge
Papyrus Designer Package
WYSIWYG report design, data variable definition, complex logic definition.
Papyrus DocEXEC
AdministraHigh-speed formatter for batch, online and user-interactive documents on 11 platforms generating AFP and PDF formats with indexes, OMR and barcodes, table of contents, page sorting, print last page first, etc.
Papyrus Client/Desktop
Business users define content of building blocks – text, tables, signatures including spell-check and hyphenation.
End users / sales or CSR work online or offline to create real-time documents for specific customer needs, with full Webportal support.
Papyrus WebRepository
Central management, administration and control of all users defining business document building blocks and layout, data and logic, versioning, validation, auditing, process management, sign off and change management.
Papyrus Adapters
SOAP adapter for loose coupling of business application data with business documents/reports - compiler and platform independent. LDAP adapter for interfacing directly with defined user roles.
Papyrus Typemanager
Simple user and application access to query data from non-ISIS Papyrus databases (ODBC-compliant, SQL Server, Oracle or DB/2) without coding SQL or acquiring/installing database client on each PC.
Optional Components
Papyrus WebArchive
Short-term and long term storage and retrieval, plus fast search, viewing and reprint of documents, fax and e-mail.
Papyrus PrintPool
Bundling, sorting and merging of different output documents generated at different times into one envelope per addressee, with mail optimization for best mailing discounts, i.e., priority mail, sort upon specific criteria, optional print or Web presentment, fax and e-mail SMTP and more.
Papyrus Server
For transparent high speed printing on different printer hardware such as IPDS, PCL, PS, PDF, IJPDS.