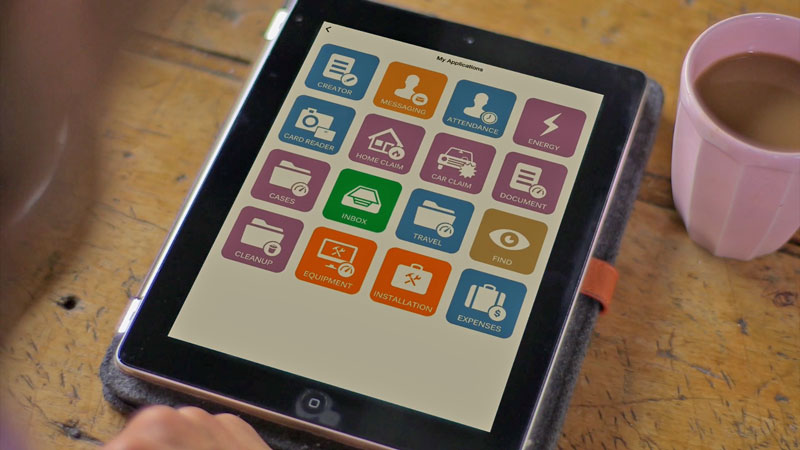 Executive Summary
The Papyrus Platform for Business Communication and Process future-proofs your application investments because it offers a complete solution for enterprise mobility that is platform- and device-independent and that will change the way your company works.
Access your task list and actions from your mobile device to make important decisions while on the go.

Access and view documents.

Collaborate around key events in your business and initiate ad-hoc and secure conversations with others from anywhere.

Send and receive key notifications and alerts on your mobile device to ensure you are informed of all your critical business events.

Record sound, take pictures or upload images to any task or case for better understanding and faster processing of mobile processes such as claims, assessments, incidents and underwriting.
Do it all securely with encrypted communication and proper user authorization.
The Papyrus Platform provides one native application for Google Android and one native application for the Apple iPhone, iPad and iPod Touch that will deliver your key business applications that are defined and released centrally within Papyrus. A Web client can also be utilized by mobile devices with a Web browser.
Papyrus allows you to create your own in-house app store:
Define and release applications at any time

Grant or revoke access to applications and content
Benefits of Papyrus Mobile:
Mobile programming skills not needed

Faster time-to-market at less cost

Support for the latest versions

Suitable for any business requirement

Secure and scalable

Stable, standard software with large corporate user base

Deliver more with existing investments
The Challenge
Mobile and social media use in the enterprise is growing exponentially with consumer demand for more convenience, speed and interaction.
Mobile phones have overtaken PCs as the most common Web access device worldwide (source: Gartner). The workforce of tomorrow doesn't grow up with PCs, fixed desk phones and Microsoft Outlook. Rather, they use mobile devices, wireless communications and a range of social software rooted in the cloud. As these workers enter the workplace, they will want to leverage the many tools they have become accustomed to during the education phase of their lives. But the current workforce, more than ever, also expects to be connected to their critical business processes while on the go.
A modern business communication software suite must offer a complete solution for enterprise mobility. If the suite provides native applications on all leading mobile devices, users are able to communicate, take action, track events, send requests, receive notifications, and integrate with existing ACM, CRM, BPM, ERP and database systems, even when out of the office.

The Needs
More sophisticated users in the workforce, a broader array of lower cost devices, and rapidly evolving consumer computing options are pushing employee-owned devices into your organization whether or not you are aware of it, and whether or not you want it. In fact, some companies are beginning to embrace "Bring Your Own Device" as a way to save money and/or to get out of the business of managing end-user hardware.
However, changing ownership doesn't eliminate the problems of mobile application development, security and compliance, or even all of the costs. It does create the need for new application and security architectures, new management and deployment processes and even new support models. The growth of employee-owned devices is inevitable you can either manage the process or be overwhelmed by it.
The Solution
With Papyrus we enable customers to future-proof their application investment because we provide standard software for a broad range of platforms and mobile devices - with no need to program-specific languages for those platforms and devices.
The Papyrus Platform is suited to serve the most complex application landscapes where multiple back-ends can run on different operating systems. In short, Papyrus Mobile offers:
Full integration with back-end systems (data and content)

Application defined and maintained on the server side

Single User Interface (UI) definition

Secure access via HTTPs with Papyrus Portal

User roles define access capabilities and authorizations

Corporate data not stored in device, avoiding loss of data
And Papyrus serves multiple devices that need to integrate with those back-ends because the platform is built with securty and limited bandwidth in mind, and resulting applications are accessible via:
Desktop application interface (Windows, Linux and Mac)

Web-based interface (browser plug-in as well as HTML5)

Mobile interface (iPhone and Android)

Tablet interface (iPad and Android)

Microsoft SharePoint interface (WebParts)
Papyrus empowers the knowledge worker with mobile applications to:
Access documents

Share business content

Allow immediate decision and reaction

Sign-off or initiate new processes

Enable easy access to key actions

Take action when talking to customers

Use case knowledge to improve customer intimacy

Be more responsive to customers

Improve on-site sales success