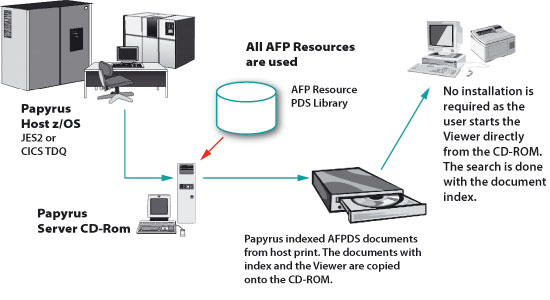 Product Description
The Papyrus CD-ROM/DVD Solution offers a dramatic cost advantage, which increases with the number of remote sites required, when compared to distribution on any other media and a much more simpler implementation than centralized COLD archiving. The conversion, design and indexing of such archive files for CD-ROM/DVD is executed on a PC server platform. The generated documents can then be viewed and printed on the local PC and printer with the native Windows Viewer provided on the generated CD-ROM/DVD to the user. Documents can be searched quickly using the Papyrus Fast Search Index technology.
Another advantage of this solution is the adherence to IBM's document architecture MO:DCA, which enables even long-term re-printing on high-speed printers on any platform. The architecture also enables the free intermixing of text, image graphics and electronic forms as needed by the application.
Features
Functions
Design forms and data layout with the optional Designer feature.
Index and convert ASCII or EBCDIC line-data files to AFPDS.
Write the document, index and viewer files to the CD-ROM/DVD with standard products (not supplied).
Search, view and print the AFPDS files with the Papyrus Client Viewer.
Fast Search Index facilitates to search external index files covering a group of AFP-files and directly accessing certain pages within these files in Papyrus Client. The files can even be distributed among different CDs with optional compression. The functionality of Papyrus Client in combination with the Fast Search Index are the base for powerful CD-ROM/DVD solutions.
Benefits
A CD-ROM can hold up to 150.000 pages of a document without compression. An average US Dollar cost comparison is 1-2 cents per page for printing, 0.3 cents for Microfiche, 0.07 cents for writable CD-ROM and 0.02 for 1000 pressed CDs.
z/OS JES2/3 Interface
Papyrus Host QFSS z/OS started task is optionally offered which utilizes the same FSS interface to the JES spool as IBM PSF and automatically transfers spool files, parameters and all AFP resources.
Standards
The AFP datastream has been standardized and openly published by IBM in MO:DCA.
ISIS Papyrus is an IBM Business Partner timely informed by IBM of upcoming changes.
Papyrus Server AFP fully supports AFPDS documents (LIST3820) generated by DCF/Script, ACIF, Papyrus DocEXEC or any other product.
PAGEDEF/FORMDEF and OVERLAYs with or without Mixed Mode imbedded IMM, IDM and IPO AFPDS structured fields are fully supported.
CD-ROM/DVD Viewing
By using AFP raster or outline fonts on the CD-ROM/DVD, it is not required that any special fonts need to be installed on the PC which displays the CD-ROM/DVD content with full display quality.
A distribution copy of the Papyrus Client is purchased with the solution which enables the viewing capabilities to be provided with every CD-ROM/DVD. No license fees are payable for unlimited distribution on the CD-ROM/DVD.
In this manner the actual user of the CD-ROM/DVD has a self contained solution, which does not require the purchase or installation of a viewer component.
The Papyrus Client not only provides PEL accurate display of the document but also printing through any printer driver.
The viewing PC can be a Windows Vista and newer using system hardware which is well balanced for the operating system in use.
Print Resources
To properly and safely print or process AFP output, it is required to use all the original AFP resources such as forms, logos and fonts. These resources are automatically stored to the CD-ROM/DVD by the generation process and need to be available on the Papyrus CD-ROM/DVD PC.
According to IBM terms and conditions, IBM's licensed fonts may be transferred with the output files for the purposes of backup and services only.
ISIS Papyrus optionally provides the Papyrus Font Converter which enables the conversion of Windows fonts to AFP fonts for use with the CD-ROM/DVD.
Prerequisites
Configuration
Processing speed is dependent on the application complexity.
The CD-ROM/DVD writing process depends on the CD/DVD-Writer.
Recommended minimum configuration
Intel Pentium IV or higher
512MB RAM (1GB recommended)
1GB for data, 1GB for CD buffer
Windows Vista and newer
Any CD-ROM/DVD writer with appropriate driver software