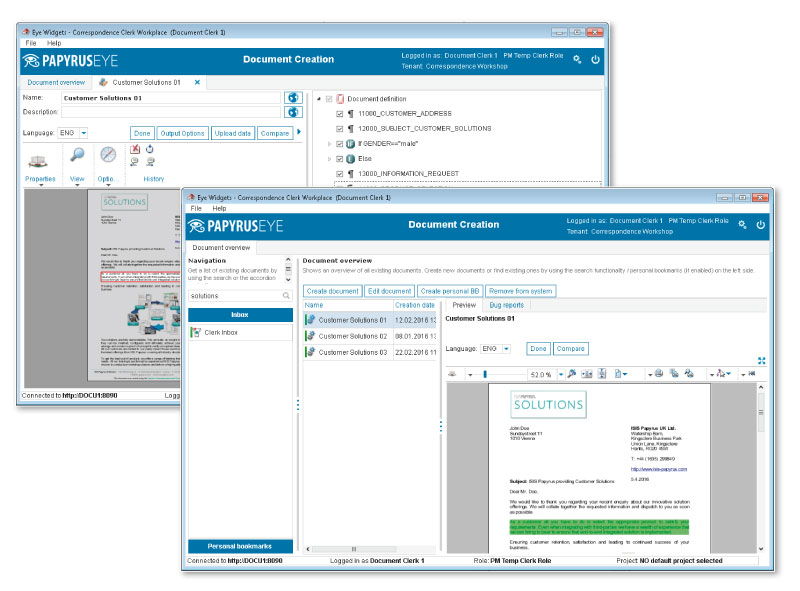 Product Description
Papyrus Client, in combination with Papyrus Desktop is the end-user interface for Client/Server documents, replacing host 3270 terminals for viewing and generation of standardized documents under full application control.
PC viewing of all AFP formatted documents including AFP raster and outline fonts.
Interactive formatting of dynamic documents with prompting and text editing.
Viewing, filling and printing of electronic forms.
ACIF index support (TLE) and full text search functions.
Print all AFP documents directly via Windows print drivers to ANY printer.
AFP print to PCL printers.
Batch and user interactive formatting of documents at the user PC in AFP and PDF.
Papyrus Client offers the same document application functionality for the PC world as with Papyrus DocEXEC on any platform. Further opportunities are offered through Windows DDE, Browser Plug-In integration or database connectivity to host or server. With Papyrus Desktop full workflow solutions using Papyrus WebRepository can be implemented.
Features
Basic Functions
Print and view of AFP forms in all orientations.
Viewing of AFPDS formatted documents, generated by products like DCF, ACIF or Papyrus DocEXEC.
Provides ACIF TLE index search.
Background printing to local PCL printer.
Utilizes the AFP bitmap and outline font for viewing and printing in 240/300/ 600 dpi.
Optional MS-TrueType or Adobe Type 1 fonts for viewing.
Printing single pages or whole documents via PCL.
Integration with archive products or user applications via standard DDE commandline controls or Plug-In technology.
Extended Functions
Filling of predefined PAGEDEF data fields into the form.
Texteditor enables text input and maintenance by the user.
Papyrus DocEXEC integration for interactive document formatting with user prompting.
Dynamic Dialog Interface.
Standard Database interface DLL.
Host access user specific.
Document Management Interface.
DDE or Plug-In integration for Windows.
With Papyrus WebRepository, an event controls the input queue and sends documents to Papyrus Client for viewing, printing and document processing.
Available as web browser plug-in.
Papyrus Client/E-mail
Offers to distribute the Papyrus AFP Viewer per e-mail for viewing attached AFP document files.
Papyrus Desktop
The Desktop of Papyrus Objects provides an easy-to-use interface for the authorized end-user to access central and distributed services such as letter libraries, print servers, central printers and archives. The Papyrus Client can be tightly integrated into the Desktop using the same Plug-In technique like an Internet Browser. The same Desktop is used by the administrator and the end-user.
Benefits
Integrate the host and PC world using IBM MO:DCA.
Forms selection from databases, FormsFill and printing on standard local PC printers.
Reduction of variable operating expense through the usage of identical forms on host, servers and PC printers.
Reuse of developed forms for FormsFill applications without printing.
Provides a corporate-wide forms and document infrastructure.
Enforces a corporate identity.
Index search by key words.
Full text search.
"send to" option for FTP and e-mail.
Prerequisites
Windows Vista and newer
Pentium IV or higher
512 MB RAM (1 GB recommended)
A resolution of 1024x768 with 256 colors is recommended.
Forms and resources should be installed on a LAN server for productive use or via Papyrus WebRepository.
The file server functionality can be supplied by any network and server operating system.
Server formatting and print processing can only be done through the Papyrus Server on Windows Vista and newer or UNIX.
Printing through a Windows printer driver can be done with standard LAN server functionality.