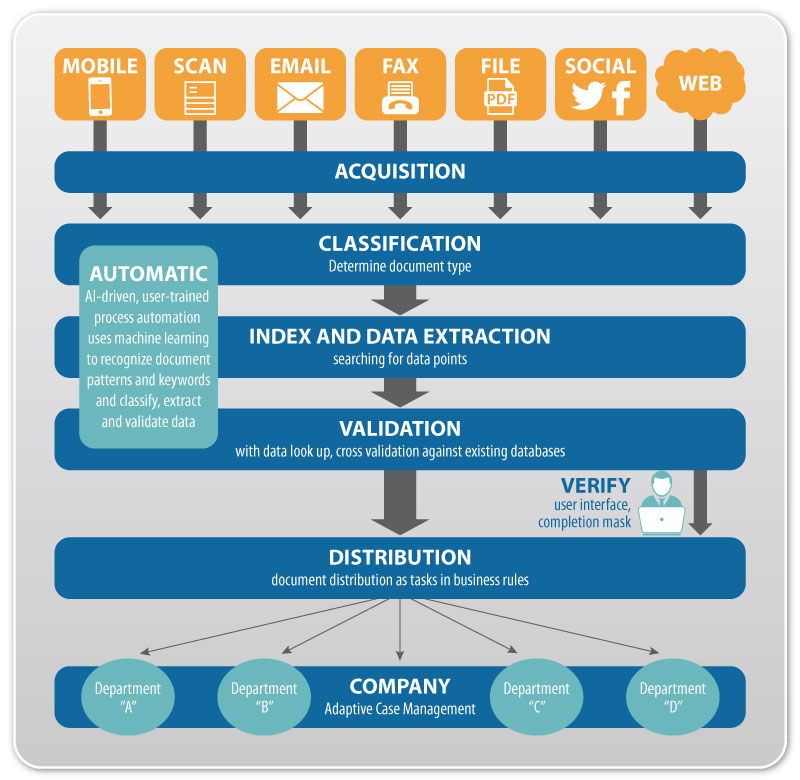 Concept Outline
With the variety of documents daily entering a company and the need to quickly process and forward them to the right place, the development and operation of a capture system must be independent of document types, input hardware and operating system. Based on a carefully architectured 'MIDDLEWARE' concept, ISIS Papyrus has developed the most powerful document application development tools. Large banks, insurances companies, government organizations, industry and service corporations such as direct marketing companies, all require the speed of development, the elimination of programming effort and the operating system and scanner independence, that is inherent in the Papyrus inbound Concept.
Features
The Capture Applications
The ISIS Papyrus Document Capture System manages the complete lifecycle from the development of each inbound application to scan and collect, to classify and extract, to completion and transfer to any business application. This includes the document layout and content recognition, document logic, validation interfaces and manual interaction mask design.
As all recognition engines are available during design time, it is guaranteed that the capture quality and results can be verified immediately. Supporting tools for higher volume benchmarking of automation and reject rates allow the best preparation before going live.
Due to a variety of experience based on hundreds of successful projects ISIS Papyrus provides additionally pre-configured frameworks to start quickly with productive individual customizing. They include all necessary definitions for documents and datafields as well as prepared views for administration and workflow design.
These are:
Inbound Mailprocessing Framework
Offers a comfortable environment for both training and testing a Capture System for incoming mail.
Capture Framework – Formsprocessing
The standard quick-to-setup configuration for forms of all kinds and types including special processing operation.
Capture Framework – Invoice
Incoming freeform documents need more workflow steps and usually an tighter integration to validation data.
Document Workplace
Wherever incoming documents must be manually split or rearranged this Papyrus EYE based framework offers all necessary tools and functions.
Campaign Management Framework
To process in the most professional way the returns from your various marketing campaigns and to automatically generate answers on the basis of the data received from the customer is provided with this framework.
Response Management Framework
Listening to your customers responses and reacting quickly and individually, with highest quality standards and as automated as possible, is made possible within this application.
Papyrus Designer Package/Capture
WYSIWYG Design and development of Document Capture Definitions
FixForm, Classify and Freeform® capability
Papyrus Recognition Server
Fixform and FreeForm® Recognition, Classification and Extraction of data from structured forms and non-structured documents, emails and social messages.