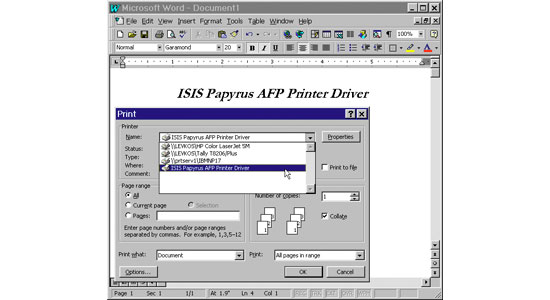 Solution Description
The Papyrus AFP PrinterDriver offers an effective way to integrate your PC generated documents (e.g. MS-Word, Excel, QuarkXpress, PageMaker, WordPerfect, etc.) into a corporate wide printing strategy. By generating the platform and printer independent AFP document format including document index, advanced processing capabilities become available. This includes bundling of PC generated documents with centralized document automation and management.
The Papyrus Printer Driver also offers to run in image mode (Papyrus Image Printer Driver) to create images.
Features
Functions
Creating directly out of Windows applications such as MS-Word:
AFP document files.
AFP OVERLAYs.
AFP fonts.
AFP indices.
Creating images with the Papyrus Image Printer Driver such as:
Handling
Select File/Print and select "Papyrus AFP PrinterDriver" as your target printer.
Specify the output type (fonts, OVERLAYs, documents) and assign a file name to the target file or send it directly to Papyrus WebRepository.
Selecting paper orientation and print resolution
As with any PC printer use "Properties" in the printer dialog.
Document indexing
Add AFP indices to the documents for later archiving and postprocessing requirements.
Font mapping
Existing AFP fonts can be automatically mapped to Windows fonts. If corresponding Windows fonts do not exist, an automatically invoked dialog suggests existing fonts to be mapped.

Fonts can be loaded from Papyrus WebRepository.
Prerequisites
Recommended configuration
Pentium IV or higher
512 MB RAM (1 GB recommended)
Windows Vista and newer
Restrictions
ISIS Papyrus does not guarantee that results will be 100% accurate at all times due to the non-standardized PC print interfaces.