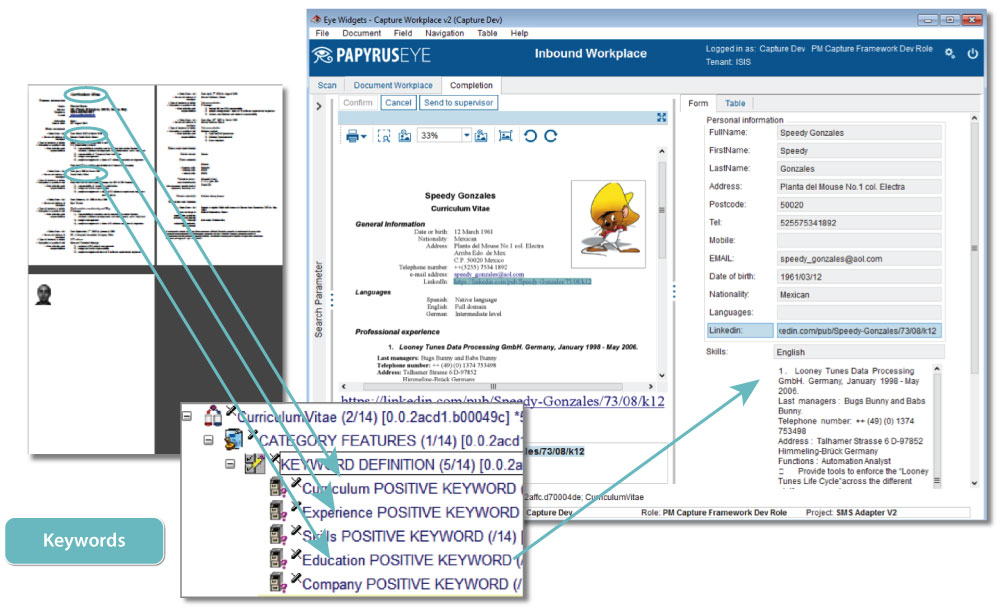 Product Description
Papyrus FreeForm® is a software module for automated recognition of scanned but unsorted business documents of unknown structure and layout. The system also recognizes unstructured or poorly structured documents with great reliability and is suited for processing any kind of business documents, such as commercial invoices, delivery notes, order forms, job applications, and many more. FreeForm® is based on the latest methods in pattern recognition and represents the most current standards in the fields of print analysis (OCR, ICR, Voting), associative databases, fuzzy logic and neural networks.
Mode of function
The Option FreeForm® module extracts from a document image the name of the document class and the field data that have been defined for this class. The concept allows for an N:M relationship between images and documents: a document can stretch over one or more pages, and likewise an image can contain several documents - similar to the way a newspaper page contains several articles.
Features
Mode of operation
FreeForm® processes scanned document pages in three steps:
Image Preprocessing
FreeForm® prepares the image data for optimal recognition results:
Recognition of document alignment and autorotation (+/-90 degrees or 180 degrees)
Deskewing
Dirt removal and/or background removal
Document Classification
FreeForm® evaluates the image based on distinctive class traits and processing rules that were worked out during the training phase:
Keywords at predefined positions or free in the text
Text phrases at predefined positions or free in the text
Graphics, line elements and background
Colors at predefined positions, plus page format
Data Extraction
FreeForm® extracts and reads all necessary field data from the recognized document class. This is accomplished through evaluation of the following distinctive traits and rules:
Absolute position
Relative position through reference objects
Pattern comparison (occurring patterns of defined synonymous- or data type objects)
Features
Processing of documents of unknown format
Classification and sorting of mixed document batches
Combination of the methods of classic form reading with full text analysis of free text fields
Smooth fit into a high performance and ergonomic production environment with integrated verification capability
Integrated definition and recognition training environment, interactive setting of rules, parameters and zones with instant verification during training runs
Statistic analysis of the processed document volume with option for using the results for system tuning
Definition and Training
Ergonomics - FreeForm® shields you from the complex and time-consuming absorption of cryptic definitions and rule sets. Training is intuitive and conveniently introduced via example documents.
Selection of relevant classification marks is effected during the design and training stage:
Automatically - on Auto-Learn mode, FreeForm® detects the relevant marks for best possible distinction of document classes in a given stock of images all by itself.
By the qualified user (application designer) - graphic and simple selection of the relevant objects in an image via mouse click.
The handling of extraction rules, too, is facilitated by hands-on learning with example documents.

Control - "What gets measured gets done!" Consequently, the FreeForm® development environment comes with an integrated tool for constant statistic monitoring and analysis of the current training status. The user is informed immediately about the effects triggered by his definition steps. Problems and their causes are pointed out clearly. Everything important is in plain sight at any time - even big tasks can be accomplished easily.
Repository - FreeForm® features an object repository. Once-created definitions such as
Synonyms, words or phrases
Field types - simple or composite (e.g. address blocks, charts)
Document classes and subclasses (types) are clearly displayed and administered and can be comfortably reused; new definitions being derived from proven existing ones.
This results in:
Quick creation of applications
Easy and efficient maintenance and upgrading of applications
Integration/supplementing products
The Option FreeForm® is optimized for use with Papyrus Capture. Through the ActiveX interface, this option can also be used by other applications and capture platforms that support the integration of ActiveX servers. The ISIS Papyrus raw format is documented (ASCII/UNICODE with data on image, zone and single character). The FreeForm® application designer is an autonomous application which is not needed during operational use of the document capture system.
Prerequisites
Technical Prerequisites - Hardware

Pentium IV or higher
512 MB RAM (1 GB recommended)
2GB HD