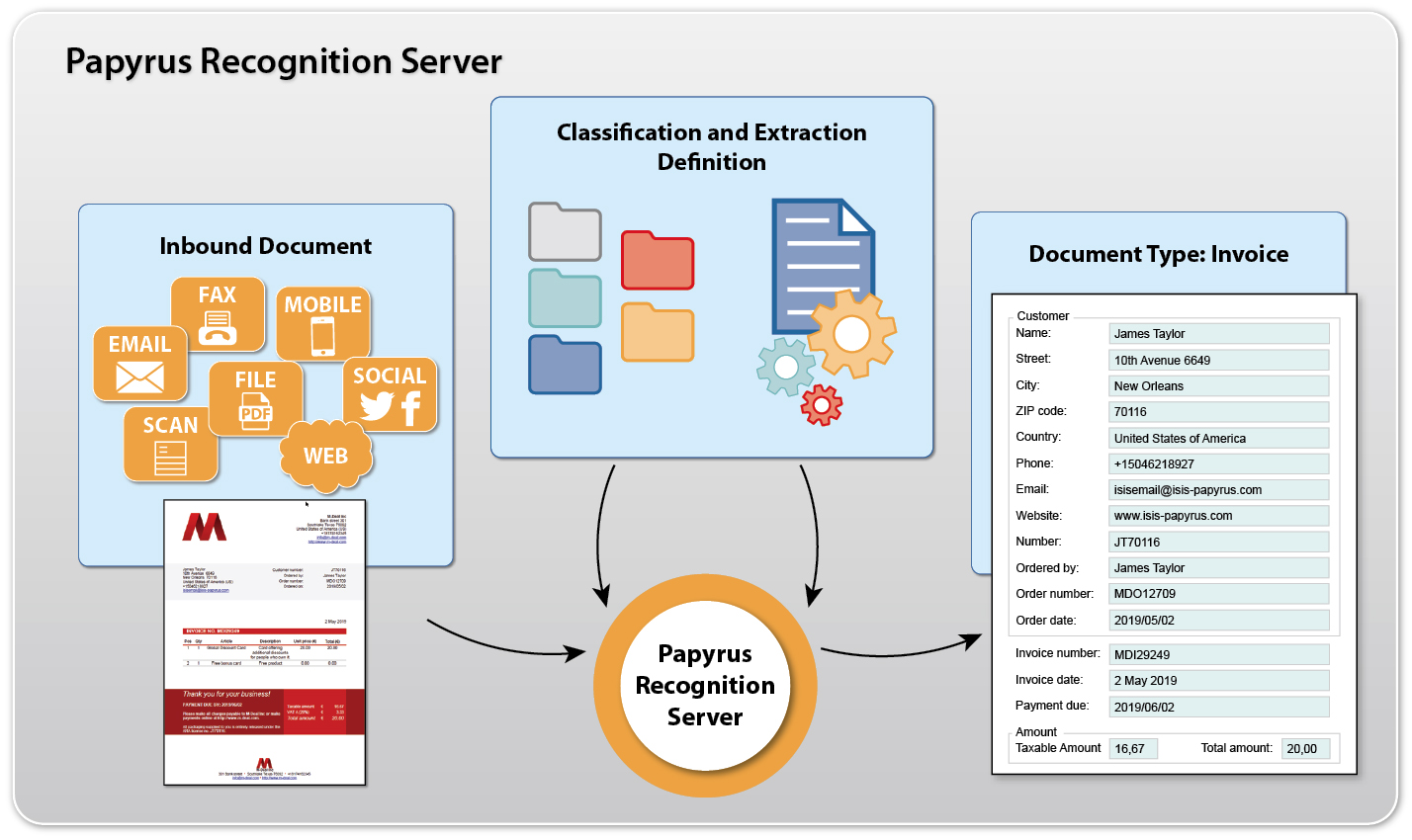 Product Description
Papyrus Client/Capture is the Papyrus EYE based end-user interface for all kinds of user interactions within a document capture system. It enables the completion and correction of classification and extraction results with all display and validation support necessary:
Uniform handling of scans, faxes and e-mails
Context aware edit fields for data entry
Interactive verification of recognized data
Image display of snippets or whole pages
Free message text and user hints
Masks for accessing all administrator and even designer functions.
Customized Document Workplace can handle expanded requirements for manual input processing such as rearranging the sequence of sheets or exchanging pages within documents.
Features
Benefits
Three ways to access the documents: Portal–Browser, Terminal Server, Desktop
Ergonomic screen designs
One user interface for all type of documents
Customizable to your individual needs without programming
Basic Functions

Display and view all types of processed inbound documents
Image view with zooming and scrolling
Handling of TIFF, multipage TIFF, JPG and PDF
Selected view of image areas of special interest
Color highlighting (variable) of important regions
Highlighting of rejected or suspicious characters
Freely definable mask for data display
Checkboxes and dropdown lists for the data fields
Tree lists of documents to allow quick overview
Thumbnail preview
Freely customizable arrangement of document list, data and images
PDF and AFP plug-in to view all kinds of documents
Auto-formatting of text and image according to available space
On-line validation with selection list for values allowed
Capture Framework uses Client/Capture
For rapid start-up ISIS Papyrus designed all necessary views for the complete set of functionalities a successful Capture Project needs. This includes standard "work"-views for those who only complete or key-in data as well as for administrators:
Document view
Locations view
Maintenance view
Task view
Statistics view
Even the application designer can approach the whole system via the ISIS Papyrus Portal within the browser:
Document and data field definition view
Workflow view (Queues and Tasks)
Rules editor view
Document Workplace
Papyrus Client/Capture can be easily customized to act as an universal document workplace to manipulate image sequence and document affiliation. It allows the user to
Split and combine documents
Rotate, move and delete single pages
Change the sequence
Move images to a clipboard
Additionally scan/import single pages
Various views allow you to access single or multiple pages of a document or the Page-Pool.
Papyrus Desktop
The Papyrus Client/Capture can be tightly integrated into the Desktop working the same way as being used via a browser only.
Prerequisites
Technical Prerequisites
Pentium IV or higher
512 MB RAM (1 GB recommended)
2GB HD