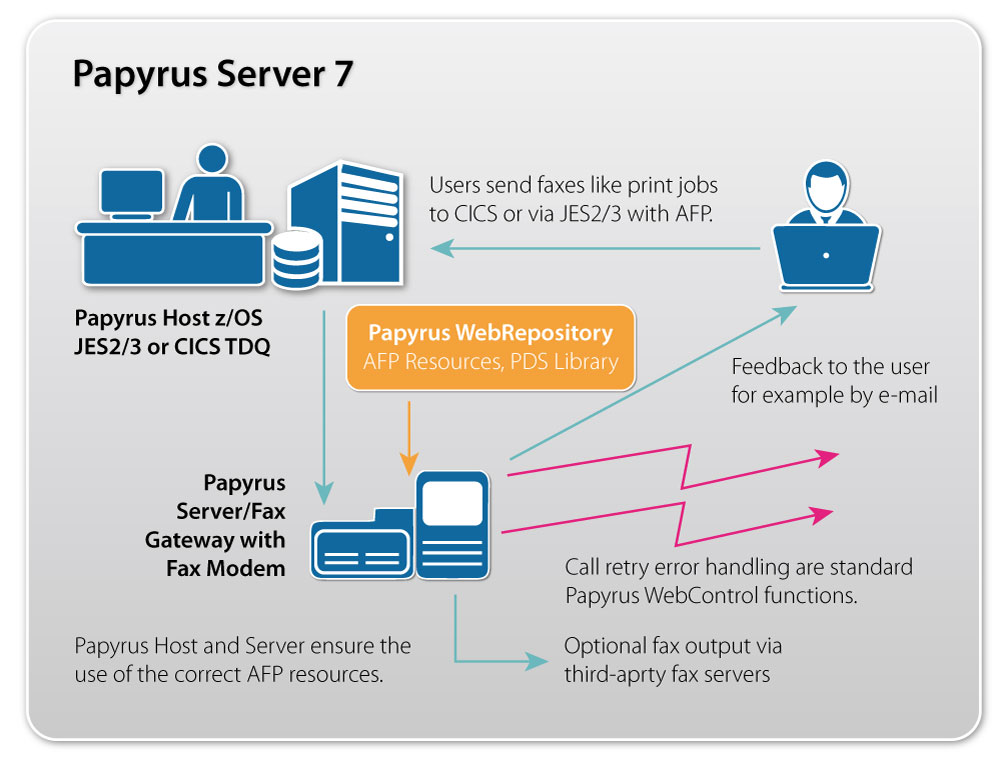 Product Description
Papyrus Server supports the processing of all AFPDS documents and line print applications using PAGEDEF/FORMDEF and OVERLAYs. Conversion to the standard high-resolution fax format is used to process the AFP output on any standard fax modem.
If required, output can be sent directly from JES spool through the Papyrus Host QFSS task to the Papyrus Server using the same FSS interface as PSF. This also enables automatic AFP resource management.
The sender's and receiver's names and phone numbers can be extracted from the list file, the AFPDS text in a document or from IBM ACIF TLE records. The output is then passed to the modem interface which also offers the user a log facility. Call retry and error handling are standard Papyrus WebControl functions..
Features
Functions
Papyrus Server/Fax fully supports AFPDS documents (LIST3820) generated by DCF/Script, ACIF, Papyrus DocEXEC or any other product.
Print applications using PAGEDEF/FORMDEF and OVERLAY with or without Mixed Mode imbedded IMM, IDM and IPO AFPDS structured fields are also fully supported.
AFP applications are converted to compressed images in 200 dpi and then sent to the fax server modem.
Server Interface
Using the standard server interface, the line data or AFPDS files are sent by a user utility to the Papyrus Server/Fax. The user has to take care of the resources which have to be already available on the server for conversion or can be accessed via IP from Papyrus WebRepository.
z/OS JES 2/3 Interface
To connect the server to the mainframe, Papyrus Host FSS is an z/OS started task which utilizes the same FSS interface to the JES spool as IBM PSF. The spool files, parameter and all AFP resources are then sent to the server automatically. This provides the fax solution with an AFP printer.
Optional CICS/MQ Series Interface
Papyrus Host also offers a CICS Transient Data Queue or MQ Series interface which can send print files from a CICS transaction or MQ request directly.
Papyrus Server/Fax is connected to the host using SNA LU6.2 or TCP/IP.
WebControl Interface
The Papyrus WebControl is an optional graphical user interface which provides print, job, spool and queue management through any browser or Papyrus Desktop. This includes user authorization, depending on role and privilege, for server access.
ISDN Fax solution on Windows
Using an ISDN fax card with 4 controllers having 2 channels each allows to send up to 8 faxes in parallel. The ISIS Papyrus FAX / G3 Module was enhanced to create one SFF (structured file format) per document which is then distributed via a queue to one of the channels of the ISDN fax card. The solution requires Papyrus Objects.
Configuration
Processing speed is dependent on the application complexity. Up to 100 pages per minute can be achieved with a faster processor to support multiple outbound lines.
Sender/Receiver Control
Sender and receiver information can be extracted from the list file via AFPDS text records or using the AFPDS TLE records inserted by IBM ACIF or other products like DCF/Script. Optionally, job control parameters can be used.
Prerequisites
Recommended configuration
Intel Pentium IV or higher
512MB RAM (1GB recommended)
1 GB disk
Ethernet or T/R card
Windows Vista and newer
SNA Gateway for LU6.2 or TCP/IP
Outbound PU2.1 (3174, 3745)
AFP Resources
To properly and safely print or process AFP output, it is required to use all the original AFP resources such as forms, logos and fonts.
According to IBM terms and conditions, IBM's licensed fonts may be transferred with the output files for the purposes of back up and print services only. Papyrus simply acts as a print server for fax.
ISIS Papyrus provides utility programs to properly collect and generate the resource tapes on various platforms.