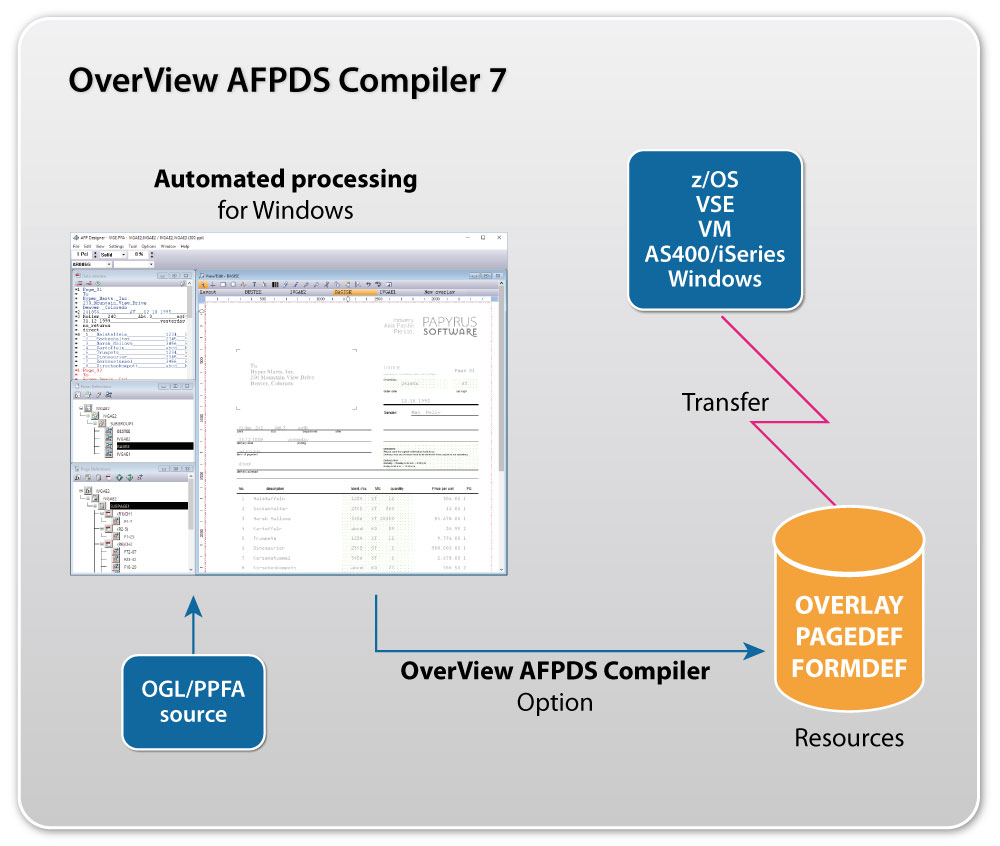 Product Description
The ISIS Papyrus OverView AFPDS Compiler is a workstation OGL and PPFA compiler option, integrated into the OverView AFP Designer. It enables the application developer to create ready-to-go AFPDS OVERLAY, PAGEDEF and FORMDEF printer objects on the PC without any host products. The AFPDS Compiler generates the AFPDS object files for printing from the internal structure of loaded forms and data-placement information with absolute accuracy.
Benefits:
Compiler for OVERLAYs, PAGEDEFs and FORMDEFs.
Generate tuned 240/300/600 PEL overlays.
Include PSEGs and fonts into overlay file.
Maintain print applications on the PC.
Reduce host file-transfer activity and CPU cycles.
Save print development time and effort.
'Company License' pricing available.
No host (JCL) skills required for print testing of objects.
Local PC AFP test-printing using ISIS Papyrus Server.
Features
Functions
Compiler for AFPDS OVERLAYs,
PAGEDEFs and FORMDEFs.
Compatible with IBM PPFA/370 and OGL/370 host products.
Generated AFPDS objects are compatible with all AFP platforms.
Full test-printing with PageEXEC and PSF/2.
Generate 240/300/600 dpi optimized overlays.
Export OVERLAY to full page PSEG.
Export OVERLAY to full page TIFF.
Builds the AFPDS structures for the Papyrus FormsFill capability.
Basic and Enhanced N_UP support: Visible N_UP, INVOKE, SHEET, NEXT, BACK, relative Printline.
Benefits
Reduces host CPU cycles for development.
No host JCL knowledge required.
Reduces development time.
Can replace the IBM host compilers on all IBM platforms.
Prerequisites
ISIS Papyrus OverView AFP Designer
Hardware and software prerequisites for OverView AFP Designer have to be fulfilled.
For use with any platform a binary capable file-transfer method has to be in place.
File-transfer options:
IBM/390 compatible file transfer
AS400/iSeries PC-Support
TCP/NFS or FTP