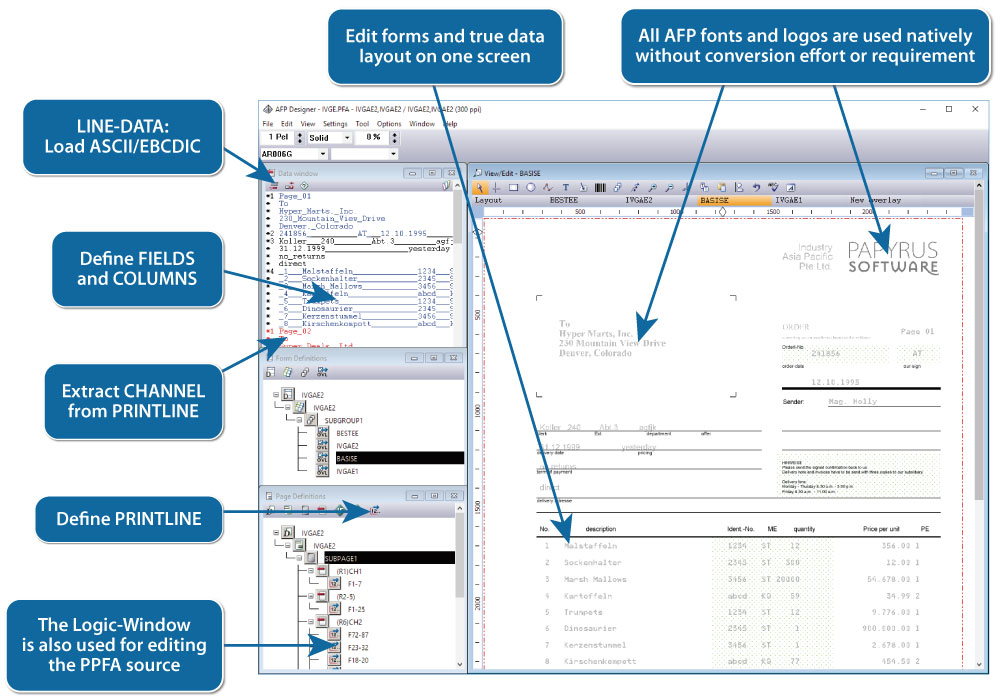 Product Description
The ISIS Papyrus OverView AFP Designer is the industry standard graphical and visual PC desktop design tool for complete AFP print applications. It supports through its dot-perfect design process the integrated development and maintenance of IBM standard OGL and PPFA source code.
The AFP Designer is fully compatible with the published IBM AFP Advanced Function Printing standard for all platforms. It enables unlimited application growth and IPDS, Xerox and PCL4/5 support for all print and document applications.
OGL/PPFA source and AFP objects without conversion.
240/300/600 dpi memory model provides true WYSIWYG.
Edit multiple forms on a single screen with the data.
Use the actual print data file for PAGEDEF design.
View and edit the PPFA structure in a logic-tree editor.
Import Windows Vista and newer forms with optional AFP driver.
AFP Color Support also for Xerox IPS4890 printers.
Display and testing of AFP Mixed-Mode print files.
Features
Applications
Maintenance and development of all IBM AFP based forms/data applications for finance, insurance and industry companies as well as government organizations.
Applications can be printed to IPDS, Xerox and PCL4/5 printers.
Benefits
AFP Designer does not use ANY ISIS Papyrus proprietary formats!
Users require only basic printing and AFP know-how.
Reduces application development effort due to dot-perfect display.
No language syntax knowledge required.
Dynamic switching between forms and data placement reduces test-printing on production printers.
AFP-Designer supports all cutsheet and endless form paper sizes.
No OGL or PPFA source code tweaking required!
With the optional AFPDS Compiler, OGL/370 and PPFA/370 on the mainframe are not required.
Easy file transfer (Functions Send/Receive) between AFP Designer and z/OS or Unix host for sources (OGL, PPFA), AFP resources (Fonts, PSEG, TIFF, OVL, FDF, PDF) and line data.
Forms Design (OGL)
Load, edit and create fully OGL/370 compatible source code.
Convert AFPDS object to OGL.
Display and edit multiple overlays building blocks on-screen.
Load and display host AFP fonts and logos in 240/300/600 dpi.
Create lines, boxes and circles from 1 to 99 PEL width in solid, dashed and dotted line styles.
Shading of boxes and circles.
Create repeated boxes with diagonals and rounded corners.
Position with mouse or keyboard in LPI/CPI, inches, millimeters or PELs.
Select AFP fonts from the library by font style, size and properties.
Place text stand-alone or into boxes with left/right/justify or balance.
Automatic word-wrap feature.
Import TIFF graphics and convert to PSEG or OGL PATTERN.
BCOCA barcode support.
DUPLICATE and AUTO-ALIGN.
11 zoom levels from 10 to 200 %.
Unlimited UNDO/REDO and AUTO-SAVE feature.
Import TIFF, JEPG objects in true color
Data-Layout (PPFA)
Design, load and edit PPFA/370 compatible source code.
Definition of PRINTLINES, FIELDS and CONDITIONS with Drag&Drop from the Data window to the View/Edit window.
Multiple COPYGROUP and PAGE-FORMAT support.
Full conditional processing support with testing of conditions.
Edit multiple forms while viewing the true data print-file with the PAGEDEF formatting.
Basic and Enhanced N_UP, INVOKE, SHEET, NEXT, BACK.
Relative Printline
Barcode support for FIELD.
Display and testing of AFP Mixed-Mode linedata files for IMM, IDM, IPS and IPO.
DBCS support.
FINISH and PROCESSING support.
Font Definition via CHS/CDP (no FON).
Automatic spellcheck (text in OGL).
Font viewer plugin - all characters in a matrix - select.
Prerequisites
Prerequisites Hardware
Pentium IV or higher
512 MB RAM (1 GB recommended)
Video card with 1024 x 768 dots resolution and 17 inch display
100 MB disk space recommended
Two button mouse
Prerequisites Software
Windows Vista and newer or higher operating system level.
File transfer to the AFP platform.
PC test printing is dependent on printer driver availability.