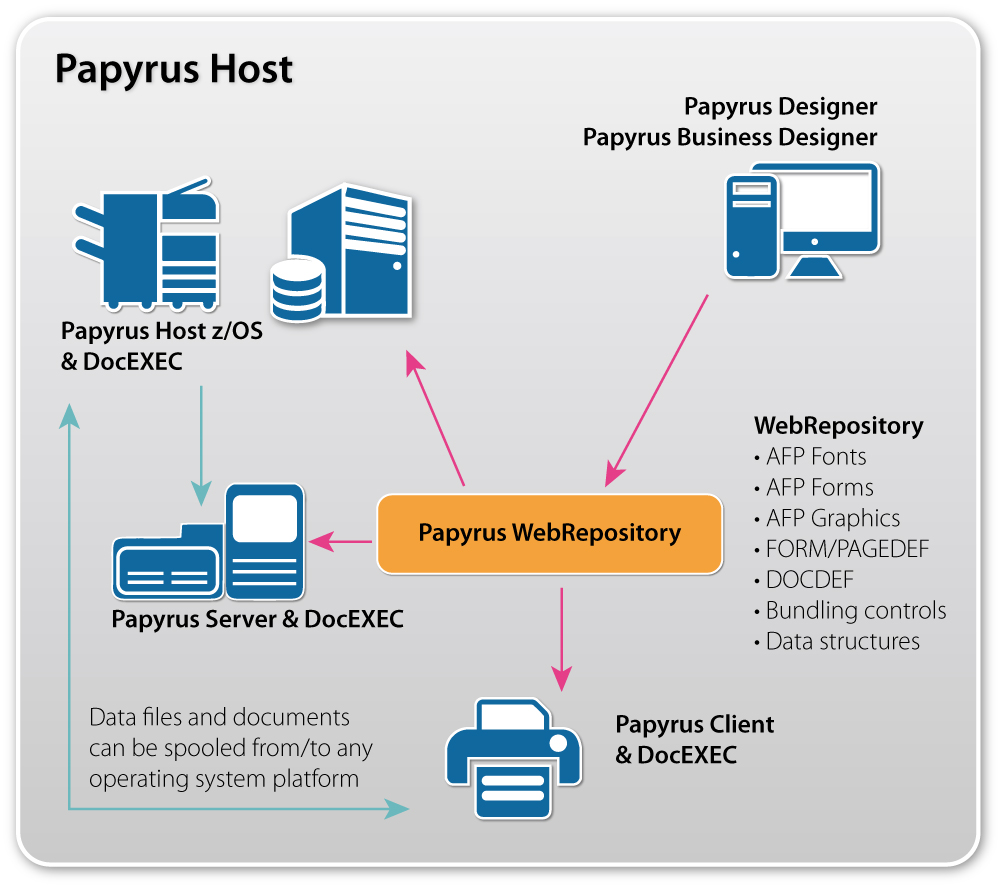 Product Description
Papyrus Host z/OS provides print management services for the z/OS mainframe. It offers the following functions:
JES2/3 FSS spool interface like PSF on z/OS.
Send JES2/3, CICS, MQ Series output to the Papyrus Server.
Receive output files from the LAN into the JES Spool.
Central Resource library on the z/OS PDS data sets or Papyrus WebRepository.
Integration with Papyrus Server and Papyrus WebControl.
Send and receive output from and to CICS Transient Data Queues.
Send and receive data via MQ Series.
Direct printing to channel attached Xerox Metacode and PCL printers.
Papyrus Host provides investment protection by making existing host services, like JES spooling, available to the LAN, and by extending the IBM AFP architecture to the PC users in the LAN.
Features
Functions
Send print output from JES2/3 to the LAN printers.
FSS interfaces with JES2/3 like IBM PSF and enables the distribution of output files and related resources like fonts and forms to the Papyrus Server with Papyrus WebControl or Papyrus WebRepository.
Output from a server print queue can be sent to JES2/3.
Papyrus Host manages all required AFP resources, such as fonts, forms, logos, etc.
Resources can be sent every time, if changed or never.
Papyrus Host can retrieve print files from the Papyrus Server.
Utilizes SNA LU6.2 or TCP/IP as host to server communication.
CICS Transient Data Queue content can be sent to Papyrus Servers in the network with Papyrus WebControl or Papyrus WebRepository.
Papyrus Server output can be sent to CICS Transient Data Queue.
Papyrus Host MQ Series Interface for receiving/sending MQ messages via standard MQ
Queues to initiate Papyrus Host jobs (e.g. DocEXEC run, PDF conversion) and return their results (AFPDS, PDF, ...) to the calling application (permanent running technology).
Interface to fully versioned resources in Papyrus WebRepository.
Direct printing options
Papyrus Host provides an option to print directly to Xerox Metacode or PCL printers on the S/370 channel.
Xerox Metacode and PCL can be run in batch or online.
Xerox Metacode files can be written to tape or DASD.
All AFP resources are automatically converted to Metacode/PCL and imbedded in the print file.
Conversion to PDF for Web solutions.
Optional printer support
IPDS via channel or TCP/IP.
PCL via TCP/IP.
Host jobs can be printed to IPDS, IJPDS, PCL, Postscript, Xerox Metacode, Fax, e-mail,
PDF and TIFF with Papyrus Server and Papyrus WebControl or Papyrus WebRepository.
PAGEDEF compatibility
Papyrus Host can also print linemode AFP applications using FORMDEF/PAGEDEF.
Benefits
Standard LAN PC printers look like JES2/3 printers to the user.
Host AFP printers can be accessed by the LAN PC users through normal LAN printers with Papyrus WebControl or Papyrus WebRepository.
Integrate the host and PC world using IBM AFP.
Reduction of variable operating expense through the usage of identical forms and complex
applications on host, server and PC printers.
Reuse of developed forms for FormsFill applications for client.
Provides a corporate-wide forms infrastructure.
Enforces a corporate identity.
Output between host and PC's can be shared and queued where printing is least expensive or fastest - as required.
WebControl Interface
The Papyrus WebControl is an optional graphical user interface which provides print, job, spool and queue management through any browser or Papyrus Desktop. This includes user authorization, depending on role and privilege, for server access.
Customized features
CICS remote transaction support for Papyrus DocEXEC.
Archive interfaces.
Repository version control.
Client to CICS DB2 interface.
CICS document request.
Prerequisites
z/OS version 1.2 or higher
VTAM 4.0 or higher
TCP/IP if used
JES2 or JES3
CICS/ESA
MQ Series if used
SNA if used