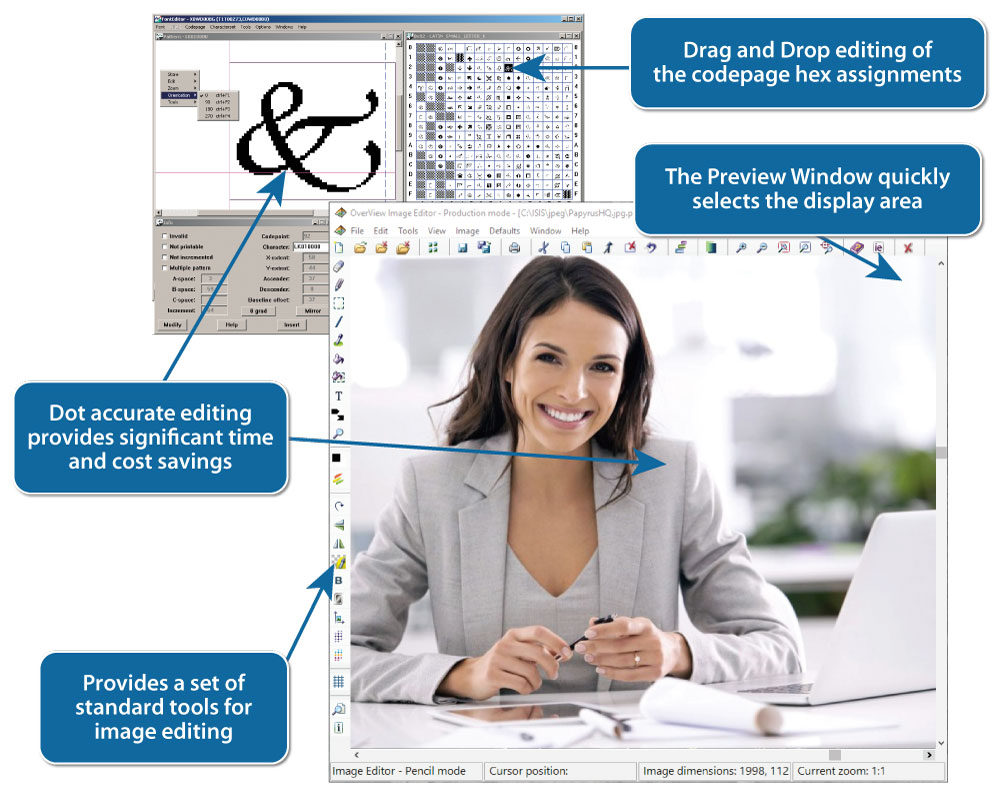 Product Description
The ISIS Papyrus OverView Font&Image Editor is a powerful graphical toolkit for creating and editing font and logo resources in IBM AFP standard object formats.
Many times faster than host GDDM and ISPF based editing tools for fonts and images.
Reduce applications maintenance time and cost.
Direct editing of AFP object files, no time and disk space wasted with conversions to any internal formats.
Product can be used for any AFP platform from VM, VSE, z/OS, AIX, AS400/iSeries to Windows Vista and newer.
Full AFPDS data structure support, including unbounded font formats for 3800.
Conversion to and from PC image formats included.
Supports 240/300/600 PEL fonts and images.
Optional font conversion support for Adobe and TrueType.
All OverView products support national AFP languages like Arabic, Hebrew, Bahasa, Thai and also DBCS fonts for Japanese, Korean and Chinese.
Features
Font Editing Functions
Load and edit or create AFPDS coded fonts, codepages and charactersets on a single display.
Edit character bitmap patterns.
Cut, copy, paste, merge and delete functions for the character bitmap via the clipboard.
Copy bitmaps from applications.
Create shaded and inverted character sets.
Convert charactersets to/from fixed pitch to proportional spacing.
Cut, copy, paste, merge and delete groups of characters between character-sets.
Drag and drop codepage editing.
Convert bounded/unbounded font formats.
Convert image to bounded or unbounded font format characterset.
DBCS font support for Chinese and Japanese.
Image Editor
TIFF full color, JPEG
Dither/convert PC image types to AFP images
Load TIFF black and white images from PC products like CorelDraw.
Load and save AFP PSEG and IOCA formats in 240/300/600 PEL.
Pixel edit images from 10% to 800% display zoom.
Rescale and resize images.
Cut, clip and crop functions.
Invert and shade images.
Line-drawing into image.
Flip and mirror image.
Darken image.
Rotate in 1 degree increments.
Spray-shade in various brush width.
Edit PELs with various pen width.
Text entry into image.
FontConverter
The optional FontConverter provides the capability to convert TrueType or Adobe Type 1 outline fonts to AFP outline fonts (DBCS based on code page 1200 supported as well) or AFP raster fonts in 240/300/600 dpi.
Prerequisites
Pentium IV or higher
512 MB RAM (1 GB recommended)
100 MB disk space for font files.
MS parallel/serial or PS/2 compatible mouse
File transfer to AFP platform.
AFP Prerequisites
IBM PSF 1.3 or 2.0 or higher.
An IND$FILE compatible file-transfer or TCP/IP.
An AFP compatible printer.
All other platforms like AIX, AS400/iSeries, Windows Vista and newer can use the created resource objects.
ISIS Papyrus does not supply any AFP fonts with the products. These fonts are copyrighted property of the respective owners.