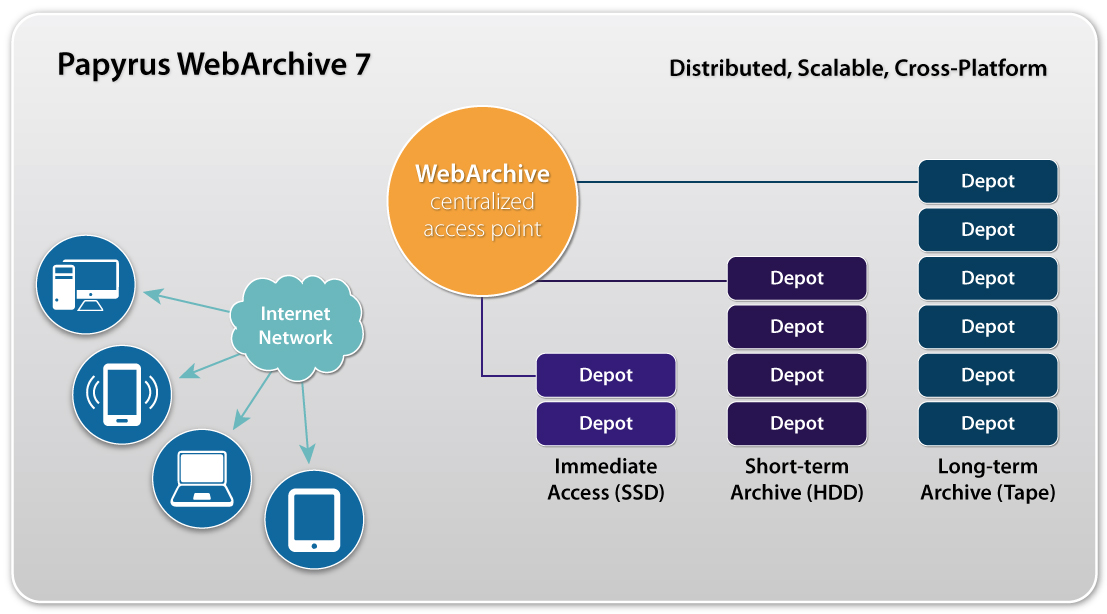 Product Description
Papyrus WebArchive opens the world of mass customer documents distribution to the corporate Intranet. Corporations with a large number of customers regularly addressed with mass printing, now have the option to offer company wide document access, as well as customer direct access via Internet technology as a value added service to those same documents.
Papyrus WebArchive builds on the mature Papyrus Objects and Papyrus Server technology to archive AFP files in virtually any other format. The actual viewing or printing through the WebBrowser can be in PDF, GIF, TIFF or AFP document format using the Papyrus Client AFP Viewer Plug-In or the Papyrus AFP Viewer.
Papyrus WebArchive can be integrated into existing WebServices or work standalone on z/OS, UNIX or Windows Vista and newer using the Papyrus WebRepository Portal.
Papyrus WebArchive offers a standardized XML interface to third party archive systems like IBM Visual Info Content Manager, IXOS, FileNet, etc.
Features
Applications
Many customer oriented businesses can benefit from using the WebArchive without changing existing print applications!
Finance and Banks
The WebArchive can be utilized to distribute customer documents and bank statements to the branch office server for collection of the documents by the customer. Alternatively a central server can be used.
Insurance companies
Customer folders can be defined on a number of WebArchive servers which can be accessed by internal and agent staff. Documents produced centrally are stored just as documents produced by the agent. Any customer query can be answered immediately. Customer documents can be printed, faxed or e-mailed as copy from the original document file.
Telecommunication and Utility Companies
Customer billing information is not only available to the company personnel, but also to the customer himself via the Internet. Hyperlinks enable the company staff to interact with host transactions via the document directly.
Industry and Engineering Companies
Any document from technical drawings, parts catalogs and billing information can be offered to internal and worldwide access via the WebArchive.
Benefits
Access to mailed documents
Alternative or value added services
No duplicate document generation
Constant quality for print and Web presentation
Reduced print and mail costs
Link to other Web based services
No conversion effort or quality loss when viewing the AFP format
AFP to PDF conversion
AFP to GIF conversion
AFP to TIFF conversion optional
Functions
Papyrus WebArchive enables the use of mainframe and Client/Server mass produced documents in WWW based Intranets or the Internet. Supported input formats are AFP documents or line-mode files with mixed Xerox DJDE or AFP controls, SAP R/2, R/3 and any other format supported by Papyrus DocEXEC.
The z/OS JES2/3 connected Papyrus Host component provides transparent document transfer to the WebArchive from the print queue. Processing of the documents can be performed on the mainframe or the server as required.
The document files are stored in a customer defined database archive system or in an Archive-Depot Node of Papyrus WebRepository on any platform. For external long-term archiving, any storage media from magnetic or optical disk can be used.
Customer folders can be defined for documents from a number of different applications allowing full Case Management of digitally signed documents. Alternatively, a search across a complete database can be used and kept up-to-date with incoming documents automatically.
Company personnel or authorized external users can access the WebArchive either directly through the WebRepository's built in Portal engine using customized Papyrus Eye GUIs or make use of Papyrus Adapter and/or TypeManager (e.g. SOAP) to integrate the WebArchive with other Web solutions. After user identification and password verification, the user will be presented with a list of available documents from the personal folder or as a database query result. They can be selected via hyperlinks for viewing in AFP, GIF, PDF or TIFF format.
Either an AFP plug-in or Papyrus AFP Viewer is downloaded to view the document, which can be compressed and encrypted, so that for actual viewing of the document another password can be requested. Alternatively, PDF or GIF formats can be used.
Using the AFP plug-In for the Web Browser, not only provides perfect AFP printing, but also an added level of security.
Users can access their documents and preview them for sign-off in a quality assurance cycle. Sticker information like comments can be added by authorized users to highlight or annotate certain positions on a document page (e.g. adding a phone call memo in a customer care solution) which will be stored with the document in WebArchive for later retrieval.
A WebArchive Client is also available for iPhone which can be obtained directly from the Apple Store.
Prerequisites
Standard HTTP services.
TCP/IP infrastructure for ISIS Papyrus WebPortal installation
Optionally standard SQL database (Oracle, DB/2, MS SQL Server)
Hardware configuration depends on number of users, etc.
Standard databases (Oracle, DB/2, MS SQL Server)
Hardware configuration depends on number of users, etc.