Digital Experience Economy
Have you ever tried to enter 'Customer experience' in the Google search? You'll get over 3.480.000.000 results you can choose from. Even 'Digital transformation', which is one of the most overused terms in the tech industry today delivers 'only' about 749.000.000 results – almost 3 billion entries less.
The chatter that revolves around people experience, including Customer experience (CX), Employee experience (EX), as well as User and Omni-channel experience can sometimes be pretty loud and confusing, but it clearly shows that we are in the digital experience economy.
In an experience economy, memories, emotions and feelings that customers take away when interacting with a business are ultimately what matters most. Yet, achieving a great customer experience is not easy. As an overall customer experience is the net result of all experiences – the good ones as well as the bad ones – it means that every interaction counts.
Many have been trying to measure customer satisfaction and have accumulated plenty of data, but the problem is that measuring customer satisfaction does not tell anyone how to achieve it.
Today, it is widely recognized that the customer experience needs an orchestrated team effort. If you look for instance into just one of the customer journeys, such as i.e. processing a claim – it shows that a number of teams, departments and systems are involved.

This all boils down to a simple fact. You cannot take good care of customers unless you take good care of your internal processes and your staff. In other words, you can't have great CX without great EX.

Here, it's everything about being motivated, well-trained, connected, efficient, and having an access to the right content at the right moment, raising questions, such as: 'How do your employees work?' 'What are the tools they are using?' 'How are they using them, and how they are using them together to ensure they can optimally deliver top customer service and CX?'

Content, and more specifically documents, are the cornerstone of any business interaction, whether it is a contract sent from a customer as an email attachment, a paper invoice mailed to an accounting department or a large volume of sales orders in a folder.
Are you ever missing that one piece of information related to your task that would make it simple? Are your employees hunting for data about the data and switching from app to app to accomplish the work?
If so, you understand the importance of a good content services strategy that will make sure your enterprise content is:
Always available irrespective of your workforce working onsite or remote
Classified and contextualized with extracted knowledge and insights
Relevant and presented to the right user at any time
Integrated into the Digital Workplace, where the work is done
Protected with security and privacy controls
Auditable for regulatory compliance
As always, strategy alone is not enough. While necessary, it needs to be supported by an enabling Content Services technology, providing the aforementioned functionalities and serving multiple use cases across the company.
See how the Papyrus Content Service Platform (CSP) helps provide:
Enterprise content services for work:
Improve content access by connecting to core business applications like Salesforce, SAP, or Guidewire and ensuring secure access to data, documents, and information for employees to work and collaborate across people and processes independent of their location or device in a new Digital Workplace. Non-technical business users benefit from Business Designer tools, helping them contribute and improve communication, business processes, decision making and managing the work.
Self-service for customers and employees:
Deliver real-time, personalized employee and customer experiences through easy-to-use digital services and self-service.
Data protection and content archiving forlegal compliance:
Ensure legal compliance and security for all corporate content in line with growing data protection, compliance, and security guidelines.
To get started, check out the new e-book by Marci Maddox, Research Vice President, Digital Experience Strategies, IDC:
'People Experience in Focus: Content Accessible Anytime from Anywhere'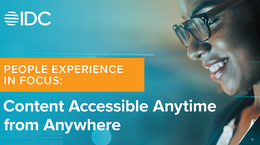 Senior Manager Brand Marketing
Vienna, Austria