Deploy the Digital Transformation Roadmap with Papyrus CCM Solution
Conversations Across Channels, Devices, Enterprise and Time
A scattered landscape of too many communication tools, fragmented ownership and clustered document templates are key barriers to successful customer engagement. The digital transformation roadmap must span across print and digital, offering customer interactions by all electronic channels while providing support for high-volume document output, single interactive letters and real-time message distribution.
Dow Jones tackled the above challenges with a strategic approach, consolidating all worldwide output on Papyrus Software's digital communication platform. The new Statement Presentment and Delivery Solution running in the Amazon AWS cloud was built using an agile approach by three teams around the globe in the US, India and Europe.
The Papyrus CCM Solution provides consolidated print and electronic delivery of statements, bills and letters. Business departments manage the print and email bundling selection. Data originates from PeopleSoft worldwide with a mixture of languages, including Japanese, Russian and Mandarin – often in the same data field. Multichannel output occurs via email with attachments, archived PDF and mailroom PDF for invoices and letters. Electronic billing is provided via integration with payment portals and XML/EDI files used directly in its customers' procurement systems.
Digital Transformation with Papyrus CCM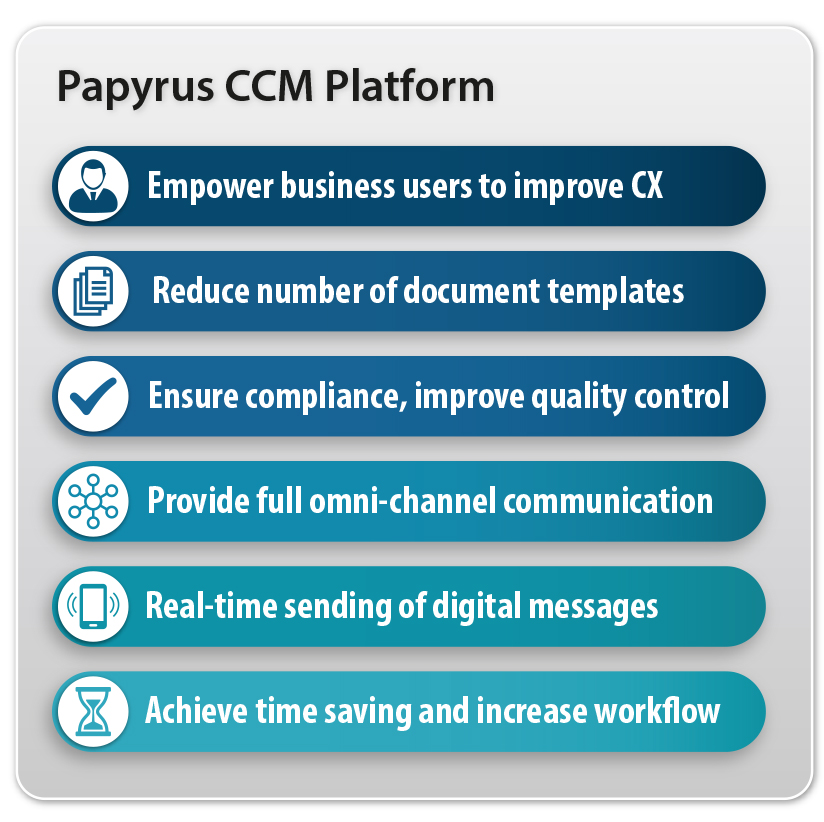 Customer letters, invoices and documents are mission critical and sit at the heart of your applications. Managing these communications is time sensitive and often creates a burden for the bustling IT department. Papyrus Software offers a solution that empowers the business users without reliance on IT.
The Papyrus Business Designer allows the business user to take ownership of all documents and customer correspondence. Business users can design, maintain, extend, change and sign-off templates, layouts, tables and text building blocks.
Our customers are able to set new standards in communicating with their clients and considerably enhance the Customer Experience. They achieve about 20x higher daily communication production and 50% savings in time, while increasing efficiency and agility with business users managing up to 95% of the overall business communication.
WellCare Health Plans, an American insurance company with more than 6.3 million members, utilized the Papyrus platform and experienced a 75% reduction in printing, paper and physical file storage costs, along with a 20% reduction of rework due to quality measures. Job lifecycle time savings are at least 20% due to eliminating the human hand-off bottlenecks and adding ad-hoc goals that trigger predefined workflows.
Move Business Correspondence to the Web
Supported by Papyrus' WebClient architecture, clerks can access the system independently from their office locations and easily create documents and forms that cater directly to a customer's needs by simply answering prompted questions. The associated document and form connects to back-end services and provides required data on the fly.
The system notes the clerk's decisions and performs any required work, automatically assembling the business document that will exactly match the customer-specific situation, while taking all relevant regulations into consideration and making sure there are no mistakes or omissions.
Another Papyrus Software customer Die Mobiliar, a Swiss insurance provider with nearly 1.7 million customers, implemented a centralized correspondence solution for its 4,000 clerks based on the business-oriented Papyrus Platform. Clerks can flexibly design and maintain content and processes without IT involvement by using a specialized, role-based workplace that integrates all tools and permissions for document and process design.
The new solution exceeded expectations for Die Mobilar, providing results in efficiency, production and service:
Reduced number of document templates and improved document quality
Daily document production increased 20x
Synchronous data integration from backend systems using Web Services
Significantly reduced time to market for new insurance services
Enhanced focus on customer experience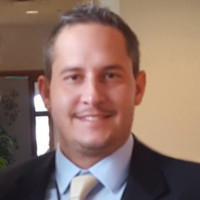 Creative Designer, Writer and Webmaster at Papyrus Software
Dallas, TX