Get the Best Out of the 2023 Papyrus Workshop Program
We packed lots of new content into the 2023 Papyrus workshops program. Read this blog to find out how to extend your Papyrus skills best and align them with your company's business needs.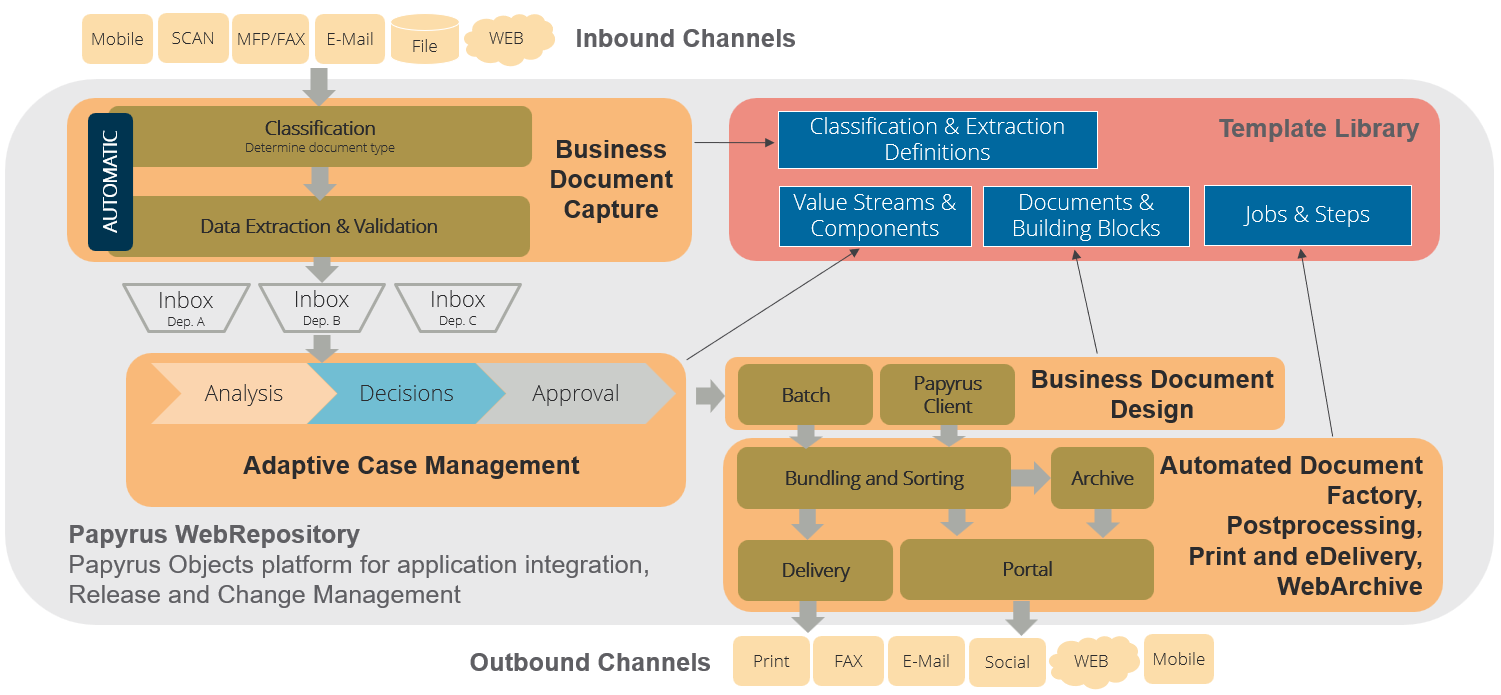 We recommend classroom workshops
Education science stresses the benefits of a classroom face-to-face workshop where the trainer and the trainees can easily communicate with each other. This facilitates the important physical human interaction which is quite limited in online workshops where the trainer may not even see the participants' faces over a full week as we experienced during Covid times. We learned that the educational success very much depends from the self-discipline and inherent motivation of participants which is hard to steer for our trainers in virtual sessions.
Training concept
Our workshops build on a mature top-down training concept, which was awarded by the British Institute of Scientific and Technical Communicators (ISTC). Workshops contain several lessons dealing with major use cases that are relevant for the participants. Each starts with the theoretical foundations explained with graphics and videos. In the practical part the theory is applied to a real-life situation. Our experienced consultants guide the trainees through the definition process until every participant has mastered the lesson in the personal training environment. Questions can be discussed whilst practicing covering the wide knowledge of our trainers due to their customer project experience. The workshop participation is confirmed with an attendance statement detailing the covered topics of standard workshops.
Recap after the workshop
Once the workshop is over it is very important to apply the acquired knowledge in daily work. Otherwise, knowledge will gradually disappear and candidates will find it hard to remember what they have learned. If you do not have your own Papyrus training environment, you can book a Cloud-based workshop setup for practicing and recapping right after the workshop finished. This way trainees can easily repeat lessons at their individual pace, looking at the workshop materials only when stuck. My recommendation is to repeat that self-practicing until a certain lesson can be successfully completed on your own: read the lesson goals and requirements and do the implementation completely yourself. You cannot learn such basic skills by heart because every application situation will be unique and requires a thorough understanding of the underlying principles and algorithms for a problem-oriented solution strategy.
The 2023 workshops program
We have introduced new workshops matching the needs of customers for a successful digital transformation process:
The Adaptive Case Management Business Designer focusses on defining custom business value stream applications and processes by business analysts and template administrators.
The Business Correspondence workshop looks behind the scenes and shows Papyrus administrators and application developers how to customize the standard solution.
The Papyrus Operations Workshop replaces the former Papyrus Output Management Workshop to look holistically at all aspects of a digital multichannel document distribution application from document bundling over white space management to multichannel print and e-delivery distribution and archiving.
And we have reintroduced the OverView AFP-Designer workshop as it was requested by several customers for those application developers who need to design traditional form data applications based on IBM's PPFA.
Just follow our recommended workshop sequence which will give you the best education results, although deviations in combination with custom workshops are feasible. Start from the left with the independent workshops which have no prerequisites and follow to the right to find the next possible workshops that depend on the knowledge built by the previous workshops. Browse through the full workshop and education plan on our Website.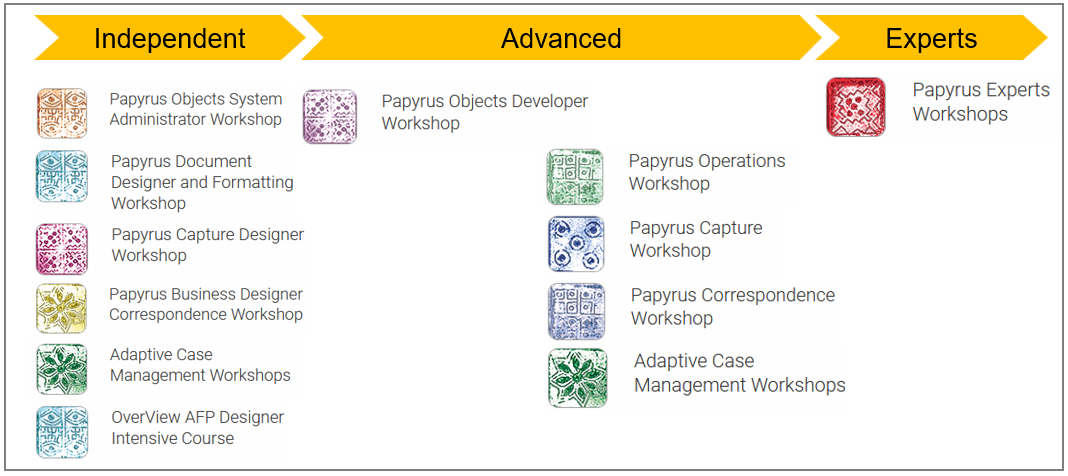 Become a certified professional!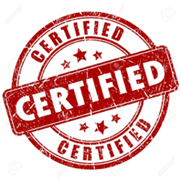 When you have mastered a selection of the Papyrus workshops you are ready to apply for the Papyrus certification program. The two Papyrus Experts Workshops will help you to prepare for the exam as you need to acquire expert knowledge for Papyrus document developers (Experts ME1) as well as for Papyrus Objects developers (Experts ME2).
Service companies and individuals around the world providing services to Papyrus customers using the Papyrus Platform have to ensure that they maintain a high level of expertise with a recognized skill level for specific Papyrus certification modules. Once the candidate has followed the defined workshops and acquired practical experience, a full day's examination at the Papyrus Academy training center will assess with a real-life use case implementation the personal Papyrus skills. Depending on the exam results, the person will graduate as Associate, Specialist or Expert.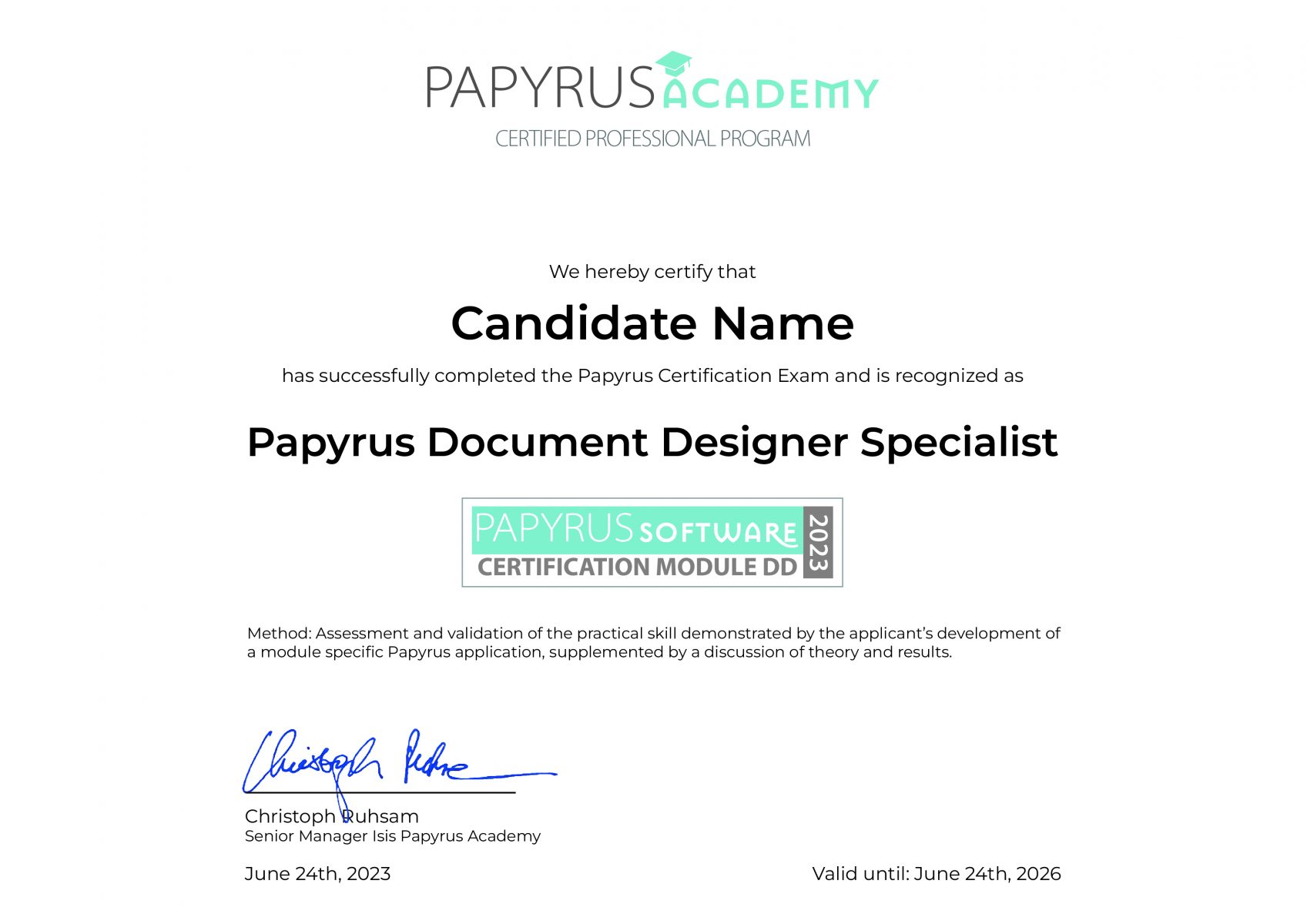 Candidates can select from five complementing modules to assess topics for business document development (Document Designer – DD module), Papyrus Objects administration and development (Papyrus Objects – PO module), Papyrus Business Correspondence administration and development (Correspondence Framework – CF module), Papyrus Output Management (Output management – OM module) as well as Papyrus Capture administration and development (Capture – CA module).
So are you ready to get started with your personal education plan?
For details see our Website or contact our training coordinator who will love to help you finding the right workshops for your situation.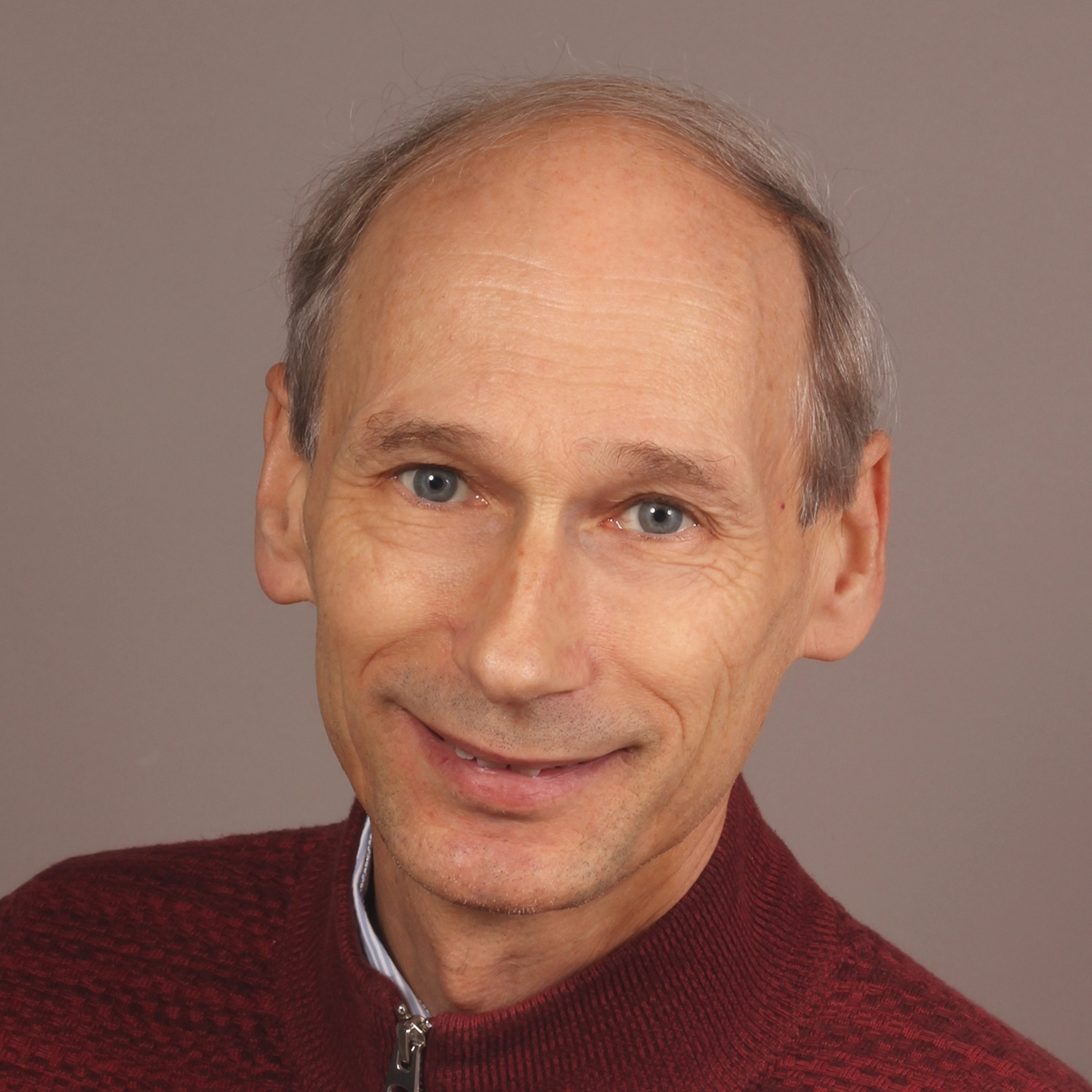 Papyrus Academy Manager at Papyrus Software
Vienna, Austria