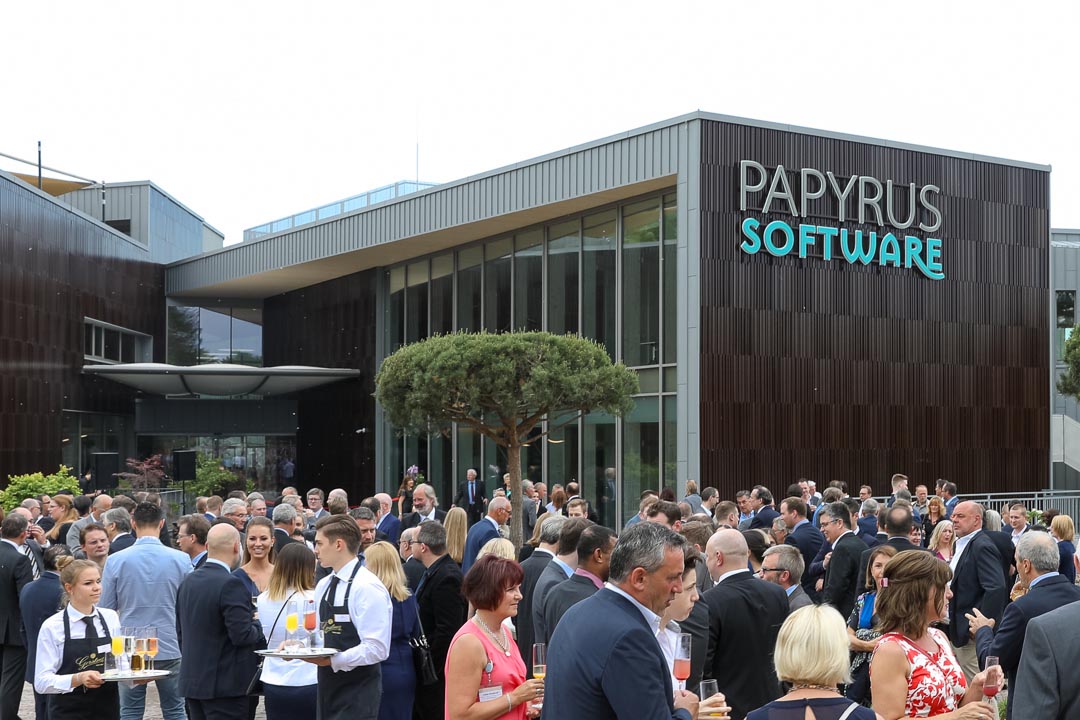 ISIS Papyrus. More than a Company
The ISIS Papyrus Group is a unique expert player in enterprise software – we enable business applications for digital transformation, operational enhancement and customer engagement. More than 350 employees worldwide deliver on the tradition of excellence in meeting customer requirements based on insight into customer-to-employee, employee-to-content and content-to-process relationships.
In 2018 the privately held ISIS Papyrus Group celebrated 30 years of customer-oriented software innovation, continuing profitability above industry average, with substantial cash reserves and typical annual growth of 5-10 percent. The new Papyrus Software Park near Vienna/Austria is the operational European Headquarter. ISIS Papyrus today has 16 corporate offices on 3 continents, including the American Headquarters in Dallas-Fort Worth and the Asia-Pacific Headquarters in Singapore.
ISIS Papyrus has a strong footprint in Europe with four development centers (Austria, Germany, Italy, Spain) and international presence with 3 global Support Centers (Austria, Dallas/TX, Singapore) and corporate offices with sales, consultancy and implementation services in every major country (Germany, Italy, Spain, France, Netherlands, Nordics/Denmark, UK, America, Switzerland, Austria, Singapore, Taiwan).
30 Years – Stability, Quality and Innovation
The Papyrus platform is unique in many ways. ISIS Papyrus develops all code in-house. This allows us to develop and solve problems without depending on third parties. The advantage is unmatched product quality and speed of development. Single vendor. One Partner. No Problems.
Independence: Our customers have gained substantial independence from external services by defining, maintaining and extending their Business Applications built on the Papyrus Platform. Powerful graphical Business Designer Software for BPM processes, NLR Rules and document templates allow non-technical business users to take ownership of mission critical communication and processes and work without the need for programming.
Stability: As time changes, your applications and processes change. Increased customer relationship flexibility and 'One-to-One' communication quality through different channels can be achieved without sacrificing requirements for fast development, throughput, platform and channel independence.
Compatibility: It is our responsibility to see that your money is not wasted but invested in capabilities that will guarantee you profitability in the shortest possible time. Papyrus products are a great long-term investment. All resources generated are platform independent and can be used directly on any new future platform. An electronic form developed 25 years ago can still be used today without migration effort. A Papyrus installation can be simply extended with new software components to allow you to grow over time.
Two Teams – One Goal: We treat every customer like a reference customer. The partnership oriented and open business style of ISIS Papyrus is a novelty in the industry. Rather than hit and run sales tactics, we focus on the benefits of the WIN-WIN business case.
Cross Industry Solution: ISIS Papyrus has implemented software solutions for more than 2800 clients worldwide. Our customers are cross-industry, large and midsize corporations on all continents - Dow Jones, Wellcare, Lufthansa, Dexcom, Citibank, Groupama, to name just a few.
A New Breed of Software
Leading with mainframe forms design in 1988, ISIS Papyrus leveraged its powerful cross-platform document formatting tool to develop the unique content- and process-driven Papyrus Business Information Platform in 2000.
Today, we offer a new breed of software. Papyrus has evolved into a flexible business application platform natively designed to support internal and external users securely across the enterprise on desktop, browser and mobile devices, linking to social and running in the Cloud.
The Papyrus Platform for Business Communication and Process was designed to consolidate customer-centric processes through a productive, metadata repository. It drives change and release management across a distributed multi-OS infrastructure - bridging Mainframe, UNIX, PC, Web and Mobile/Social environments without conversion, reprogramming or even recompilation.
ISIS Papyrus' patented, peer-to-peer grid technology is highly scalable and provides full data and transaction integrity without the need for Java applications or database servers. Further, Papyrus was the first software system known to use real-time machine-learning for automated business process discovery.
For content and processes that link all systems, applications and people around the globe, Papyrus supports all code page systems, including Arabic and Hebrew with right-to-left formatting, as well as Japanese, Chinese and Korean fonts and fosters collaboration across different time zones, languages, and cultures.
Online Channel and Omni-channel: Customers want real-time reactions, so Papyrus ensures that your organization's online channel is designed for real-time response. Papyrus connects the front office with the back office to make doing business with you easier, and integrates flexibly with your business systems and applications to fast-track user requests and enable real-time assistance through self-service forms, live chat or customized documents. And when conversing and closing the loop with your customer, Papyrus gives you secure, fast, confidential, traceable, and legally binding Omni-channel e-Delivery. Besides delivering business documents via e-mail, SMS, browser and portal, Papyrus can send the same document in perfect quality to all mobile devices, while ensuring that printing is always an option, with full output management and reporting across platforms and output channels – all for a seamless customer experience.
Framework Solutions
ISIS Papyrus accelerates design and implementation for customers through the creation and delivery of Framework Solutions, which include core application architecture, functionality and features that can be quickly customized and configured to meet the unique business and operational needs of each organization.
Customer Communications Management (CCM)
Papyrus delivers a comprehensive but flexible solution for personalized and individualized communication in real time across multiple channels and devices and across divisions and departments. Integrated design, composition, generation, multi-channel output and e-Delivery as well as archiving ensure corporate consistency, Omni-channel preferences and closed-loop communication for effective customer engagement and optimized customer experience (CX). The Papyrus Business Designer provides smart modern document design and streamlined administration for the Business to execute on strategy, on time and on budget.
Interactive Business Correspondence
The Papyrus GUI empowers business users to improve customer service and support quality without extra delays, resources and expense of programming Web-enabled versions of desktop applications. Account teams work in a browser to respond to customers by selecting the same templates and editing features, enabling/disabling text blocks and routing for approval or working in an assisted way with the Papyrus Document Wizard, just as in the desktop application. The Business creates and manages content, templates and documents for batch and online production, as well as for interactive in-document editing, ad-hoc reporting, contracts and correspondence.
Automated Document Factory (ADF) for multi-channel document delivery with feedback loop. The ADF allows delivery administration, operations and management including tracking, tracing and monitoring of all jobs, starting with receiving the data and completing when documents are archived.
Adaptive Case Management (ACM)
Handling complex customer and operational activities demands a cohesive approach for combining collaboration, content, data and processes – including response to exceptions that is based on human knowledge. Papyrus ACM includes goal orientation and business rules to align and coordinate activities, content, rules and user interface, as well as integration with external systems. Papyrus implements the full range of processes - from straight-through processes to dynamic to completely unstructured processes driven by ad-hoc content such as e-mail or social media.
Intelligent Capture / Inbound Mail automation
Customer communication and business documents arrive in multiple forms and channels across the enterprise. You can now optimize the entire capture and processing of the incoming communications through a self-learning common platform for acquisition across all inbound channels with the same intelligent "document understanding" and integration with key processes, applications and systems, improving quality of service, satisfaction and results.
One Company – One Voice
The Papyrus Platform enables enterprise organizations to centrally manage, administer and deploy document resources, data and definitions for all types of business documents and users. The core WebRepository ensures consistency in all activity, communication, processes and reuse of building blocks across document types. By unifying inbound and outbound communications with processes linked to enterprise systems, ISIS Papyrus enables organizations to interact with customers as 'One Company with One Voice'.
Business Architecture
The Papyrus Platform enables definition of the business architecture to define a strong link between business strategy and execution, using business terms as a language of process to empower business users to describe processes semantically in the course of their daily work.
End-to-End Integration
The Papyrus digital platform integrates CCM/BPM/ECM, portal and collaboration capabilities for rapid development, deployment and maintenance of custom desktop, Web and mobile applications for Digital Business. The Papyrus approach to streamline system, data and application integration makes it easier to define business processes, improve employee productivity, simplify supply chain processes, strengthen regulatory compliance and achieve rapid performance improvements throughout the enterprise.
Mobile, Handheld and Social Support
Business documents are delivered to iPhone and Android; business forms are completed on tablets; data capture via mobile e-forms and photo data extraction are common requests in field service and sales processes. With Papyrus, all documents and forms can be delivered in the same quality to mobile devices and browser for cross-platform consistency and efficiency - with no JavaScript coding requirements. Twitter, Facebook or LinkedIn can be fully integrated into the business communication process by a Social adapter.
Professional Services and Customer Enablement
ISIS Papyrus has an effective organization for the implementation of its software and provides professional services throughout the entire Papyrus solution implementation and operation process to support customers from installation to production and beyond. With our global consultancy team, we offer a wide range of services – from project management and scoping, trainings, consulting and support to expert advice and coaching – through a network of 16 corporate offices, selling, supporting and implementing corporate software solutions in 42 countries.
ISIS Papyrus Academy
The ISIS Papyrus Academy is part of the Papyrus R&D and works closely with Development- and Solutions-teams to provide the best available technical knowledge about the Papyrus Platform and its applications to Papyrus customers, which is regularly published in form of Best Practice Documents, educational videos, workshops and technical product documentation. The Academy is in charge of the ISIS Papyrus Certified Professional Program to ensure that organizations providing Papyrus technical services around the world are well qualified for the task. User Experience is an important aspect for well accepted business applications which is taken care of by the dedicated Academy UX-expert team. Moreover, the Academy works with international scientific institutions, such as the Faculty of Computer Science at the University of Vienna and the Austrian Institute of Technology (AIT). Joint research projects focus mainly on Adaptive Case Management (ACM) and other non-workflow approaches to BPM. Please see the list of scientific papers.
Sharing Experience
ISIS Papyrus hosts its annual Global Open House and User Conferences at each of the Competence Centers around the world with presentations, workshops and roundtable discussions transferring the knowledge on latest developments, customer implementations and how to achieve success. Users can interact with our managers and technical experts, meet peers and share experiences. These annual knowledge-sharing events on industry-related topics and technology provide an excellent opportunity for executives and strategists, as well as CX and high productivity specialists to discuss new trends and hear about ISIS Papyrus directions.
Real-World Results
The Papyrus Platform for Business Communication and Process enables critical business benefits for high-quality customer communications and operations:
Shorten time to market for new products
Empower business to act, respond, resolve & improve
Ensure brand consistency across channels
Share a consolidated customer perspective
Ensure seamless collaboration & integration
Align activity goals with management objectives
Deliver secure portal & mobile service to customers
Provide closed-loop processes for partners & vendors
Improve accountability, compliance & productivity