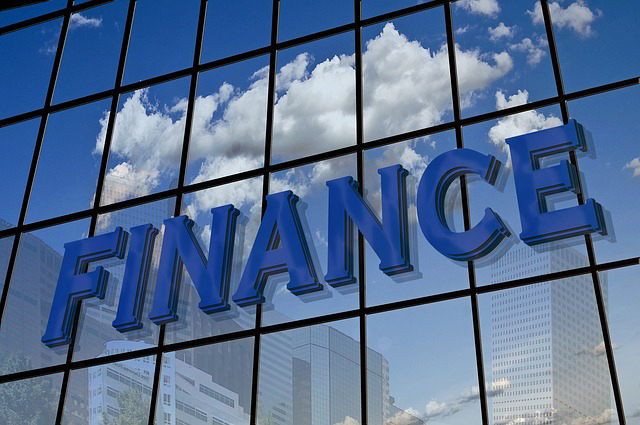 Handling both Client and Regulatory Correspondence with a Single Solution
German credit institution replaces StreamServe and Adobe InDesign with Papyrus Software
The Business
Fondsdepot Bank is a German credit institution focused on processing administrative activities for investment portfolios of large companies. The bank serves more than 180 sales partners and organizations, as well as capital management companies and offers individual solutions for portfolio management, central fund ordering and depository management. Currently, Fondsdepot manages around one million investment portfolios with a volume of about €32 billion assets.
The Challenge
The bank handles numerous forms and documents that provide detailed financial information for each client, including market trends and performance reporting. With one million transactions per week, the company needs strong infrastructure to capture, consolidate and provide this information, while at the same time ensuring the flexibility to quickly adapt to ongoing changes in legal requirements. The bank needs to interact with clients and provide relevant communication over the entire customer life cycle, helping solve specific problems based on the client's needs and preferences.
Fondsdepot decided to start a broad communication initiative to address both client and legal correspondence. With both content and scale of delivery fully driven by law obligations, regulatory communication has almost no potential for differentiation among competitors, which makes client communication absolutely essential to Fondsdepot's strategy to win, retain and satisfy clients.
---
The Solution
The Papyrus Communication and Process Platform provided a solution for Fondsdepot to consolidate all client and legal communication processing. Papyrus Business Designer replaced Adobe InDesign to streamline form creation, shifting work from graphic designers to non-technical business users. In addition, Fondsdepot is migrating documents from StreamServe to Papyrus Correspondence.
The new collaborative way of working allows significant improvements in time-to-market and cost for creating high-volume documents. Multi-channel documents are created one-time with a single-source design and can be printed, sent electronically, posted to the company portal and transferred to more than 100 bank clerks for online letter writing based on their roles and responsibilities (LDAP).
Full Collaboration Across Departments
Users from different departments can easily collaborate on document changes, layout adjustments and administrator approvals. Business users can flexibly create and adjust documents templates in Papyrus Business Designer, while document developers leverage the power of Papyrus Designer to provide support with more sophisticated tasks and content, like invoice data placement – all working and sharing the work through a single templates library.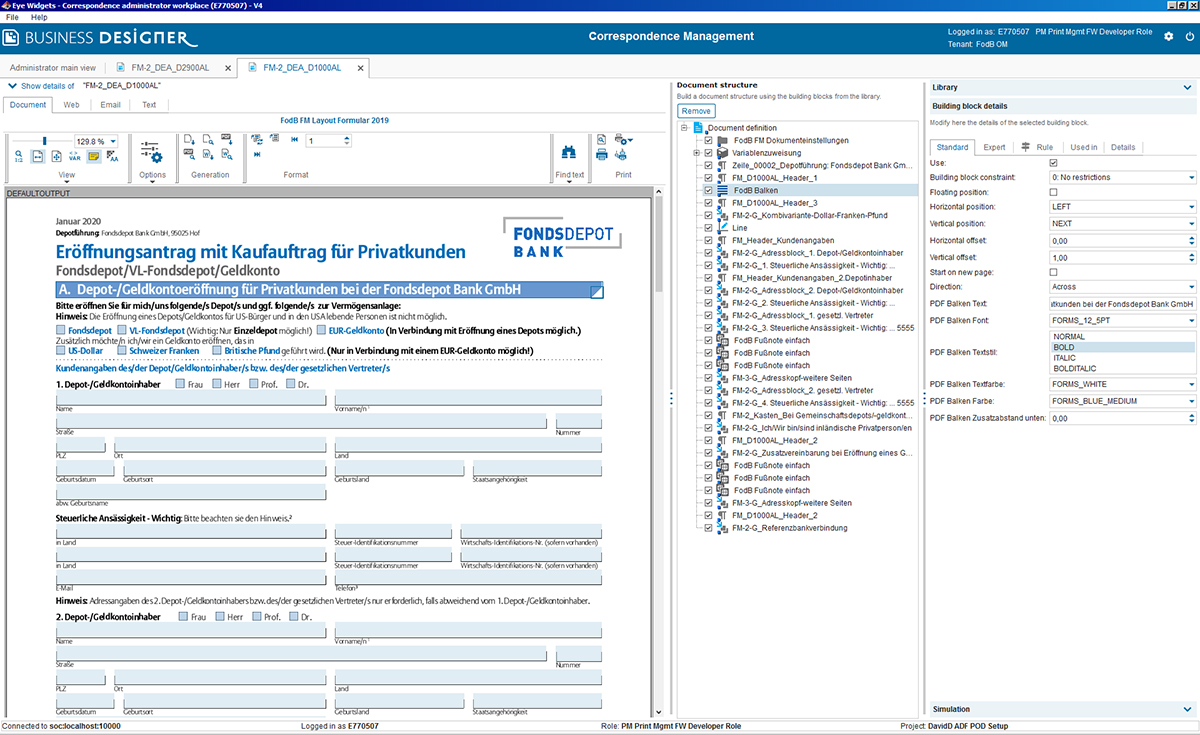 Intelligent Forms Management
The new Collaborative Forms Repository driven by Papyrus Adaptive Case Management (ACM) holds not only document templates, but also the complete versioning and automated release process with assisted deployment and a "Shopping Cart" functionality, allowing to create packages of multiple forms for automated merging and deployment. All information - when and by whom the form was modified with a full version history and a full track of activities, interactions and comments from team members working in the process - is available with the form. Forms are currently provided as fillable PDFs and can be printed or filled electronically by clients. In the next step of implementation, the same forms will be used as Web forms in an online channel application, leveraging Correspondence Wizards for improved customer experience (CX).
Migration from StreamServe and Adobe InDesign
StreamServe documents with large amounts of business logic are currently being migrated to the Papyrus Business Designer modular document templates matching the company's CI/CD. In addition, 600 different forms from Adobe InDesign with 2,500 PDF variants have been redesigned in Business Designer, shifting the work from graphic designers to non-technical business users and accelerating the creation process, leading to significant improvements in time-to-market, maintainability and cost reduction.
Unified Processing
A single Unified Output Management Platform handles all documents with channel definitions provided across departments. The solution offers configurable standard interfaces to print providers and long-term archives instead of custom code and provides bundling, sorting, eDelivery and mail optimization, resulting in significant benefits in quality and cost. The Papyrus Print & eDelivery sends jobs to the printer, emails to clients and documents to the Portal, as well as to the external archive.
Papyrus WebArchive serves as midterm storage for quick, controlled access to documents by business users working on a client case. The integrated end-to-end auditing, monitoring and reporting collects data and provides relevant information on the process and on all the documents archived, printed or emailed for operational and legal purposes.
Shaping the Future
The new solution drives the bank's personalized client-relevant communication via various media channels based on client segmentation and the mandatory communication driven by law obligations, allowing Fondsdepot to increase value for its clients and achieve full compliance at the same time.
The rule-based process is streamlined end-to-end and provides efficiency and compliance with the regulatory directives. As regulations change, Fondsdepot has the flexibility to modify processes, rules and communications to adapt to future needs – whenever required, at any time.