Experience A Mind-Shift!
Get Your Ideas to Execution Faster Low Code through Configuration and Adaption For a Fraction of Cost and Time
Powered by the award winning Papyrus ACM Framework solution
A digital platform integrating process, content, communication and collaboration
Business concepts described in business language (Ontology)
Business rules written in business language to restrict and guide actions
Conversational User Interfaces on Mobile, HTML and Windows with NO coding
User interaction, processes, rules, information and organization completely modular
Papyrus Business Reference Framework Solutions: Jump-start the definition of any new business process and application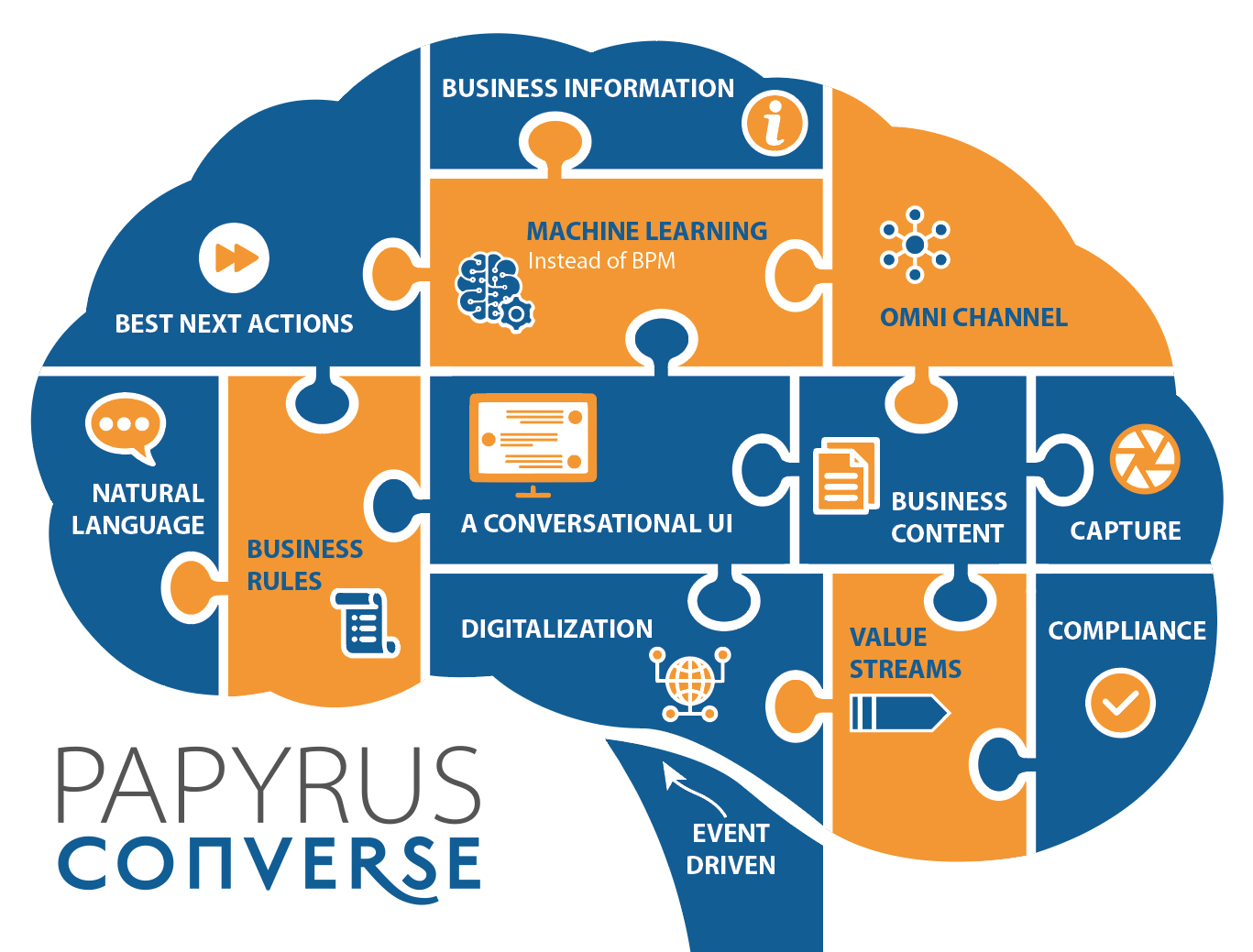 Low Code Development under Business Architecture
Papyrus Converse Builder is an application using low code development resulting in value streams that provide the best customer experience. It defines and monitors how business delivers end-to-end value to the customer. Papyrus Converse starts with identifying business moments that trigger the customer journey. Business Architecture, supported by Papyrus Converse, guides the creation and cross-mapping of Value Streams, Capabilities, Organization units, Roles and Information.
Common Business Language: Reduce Ambiguity
The heart of every business is formed by its business language. The Converse Builder is built around the Business Glossary where all business concepts, that play a role in delivering value, must be declared and defined in an unambiguous way. Relationships, between concepts, provide semantic meaning and Papyrus Converse will manage these in what will be your Business Ontology.
Converse Rulebook: Guide Behavior, Shape Decisions
Business rules are what business needs to run the business. Today many of your business rules are implied, rather than explicit. Many organizations are at significant risk, because their business rules and related corporate memory, lies with just a few key staff – more often than not, soon-to-retire baby boomers.
Business rules are about business communication. Business people don't program code. Converse Rulebook lets you manage your Business Policies and Rules in Business Language - not IT speak. It does so by using your Business Glossary and a grammar that is natural to business people.
We live in a fast-changing, highly regulated, knowledge-intensive world. Business Rules will change and it will become increasingly more important to know the impact of these changes up-front. Converse Rulebook provides this traceability. Where do the Business Rules come from (laws, regulations, policies), where are they used and if not strictly enforced, when and who violated them?
In the age of digital transformation speed is everything. Today's business cycles require a solution that gives business professionals the power to "materialize" their ideas accurately, easily and quickly. Papyrus Converse is your answer, it cuts months of development down to days; built on the award winning ­Papyrus Process & Communication Platform.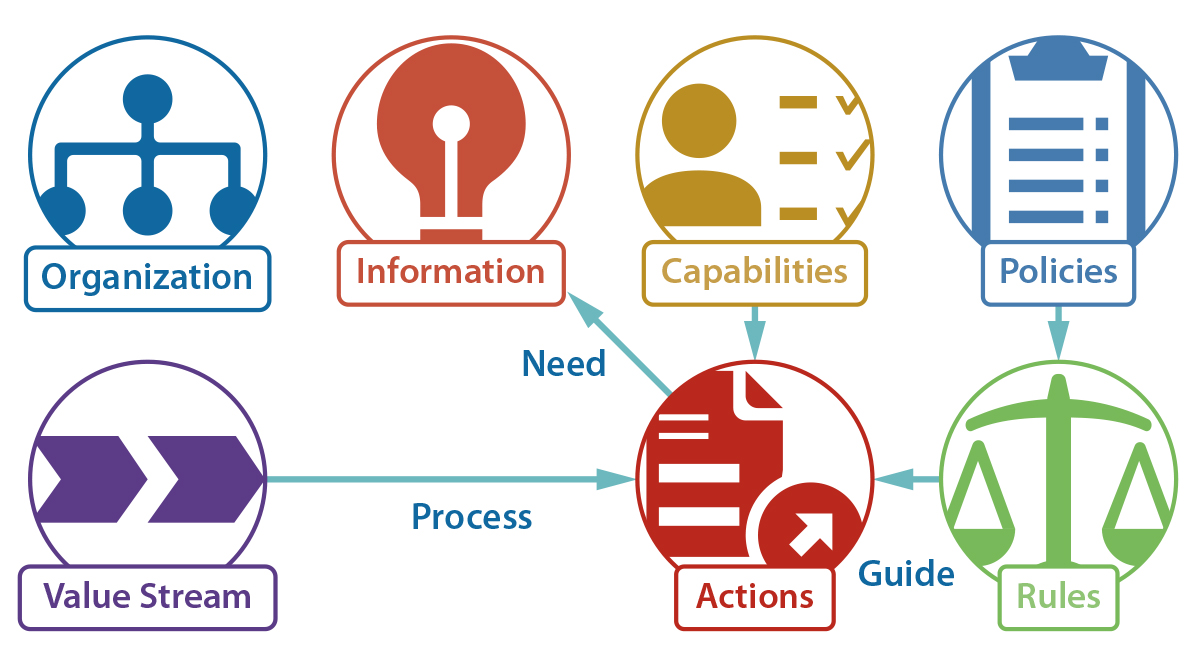 Conversational User Interface
The Papyrus Conversational user interface guides the knowledge worker to achieve their business goals by presenting the Best Next Action, powered by Papyrus patented Deep Learning Algorithm. The user interface, by design, does not require coding. The conversation command interface, through Natural Language Processing, understands semantic meaning by using the Business Ontology. Actions being completed are constraint by business rules to ensure compliance. Actions are stored in a "conversational memory" for effective machine learning and auditing.
A New Breed of Award Winning Software
Papyrus Software enables business applications for digital transformation, operational enhancement and customer engagement in an omni channel world. From insurance to banking to utilities to telecom to government to service providers, Papyrus technology supports service organizations by enabling business and technical teams to more effectively integrate, interact and innovate for real-world results across departments, functions and geographies.
With core capabilities in CCM, adaptive case management (ACM) and intelligent capture, Papyrus is a new breed of software - a flexible, end-to-end business application platform natively designed and integrated to empower business users securely across the enterprise on desktop, browser and mobile devices, linking to social and running in the Cloud. With Papyrus Platform for Business Communication and Process, enterprise teams choose where to improve, whom to empower and how to scale - gaining the knowledge and tools to create, manage and enhance business applications with reduced IT dependence.
Facilitate Innovative Change
Papyrus is a model- and process-driven, high-productivity communication platform designed for rapid development of the next generation of customer-focused business applications. The system has been designed to enable the business to flexibly create and manage fully integrated processes and customer communications across systems, applications and departments to accommodate for rapid change and provide a high quality of service. It facilitates change, growth and innovation and is used by companies for transforming into an adaptive and responsive business.
Simplified Integration, Interoperability & Connectivity
A broad variety of Papyrus Adapters and Typemanagers connect the platform with vital business application data from almost any major legacy or mainstream system or application. These platform- and compiler-independent tools drastically reduce the amount of time and effort required for interfacing with applications that span multiple systems and require the passing of documents and data between these systems.