A Solution That Is Secure and Governed
The goal is to allow any object in the system to be archived at a specific point in time with support for specific storage and management attributes. Electronic archiving of documents and metadata can include legal attributes with blockchain notarization or certified digital signature, governed retention periods, and automatic document deletion by document category and type.
Papyrus WebArchive Key Functionalities:
Store any content and complete cases over the entire lifecycle
Centralized archive with distributed storage depots
Scalable and storage media independent
Secure Access Control
Drag/drop/scan to archive
File system integration
Interfaces with other enterprise archiving systems
Archiving based on retention periods
Auditing and Reporting
Papyrus WebArchive is fully scalable across platforms and supports distributed storage with central index and search capability across different server hardware. Papyrus WebArchive stores complete CASES (data, processes, activities, content, views, service interfaces (SOA) over the complete lifecycle. Employees can based on the their security profile (role/policy/priviledge).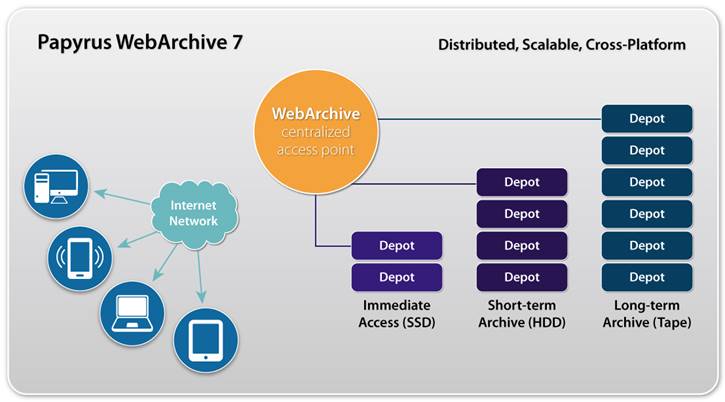 From a legal archive perspective, any type of content can be made revision-proof. This applies not only to PDF/A standards but also to Microsoft Office documents, email, web documents, chat, and more. For data protection, Papyrus supports long-term archiving with blockchain-secured contents to ensure that stored content cannot be corrupted and remains auditable on demand.
Business defined Retention Rules and Policies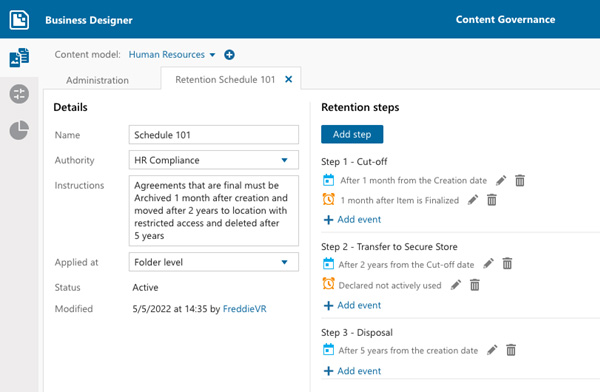 Any content can be archived at a specific point in time with support for specific storage and management attributes. The system can be configured for legally required deadlines and set up to automatically delete the document upon expiration. Retention periods, as well as what happens to the content after the retention period is over, are fully configurable and can automatically generate notifications per email, SMS, and the Papyrus Inbox.
Supported Requirements under General Data Protection Regulation (GDPR)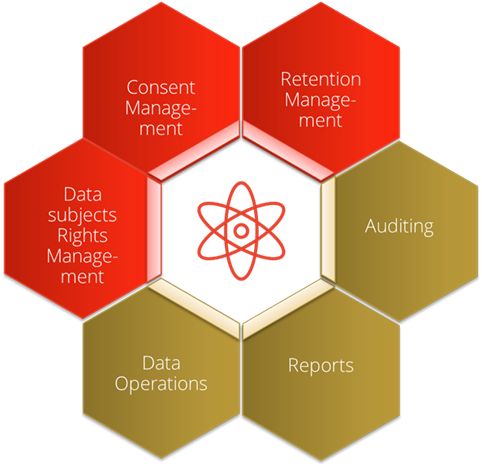 Retention periods
Automatic document deletion
Restricting access control
Monitoring Reporting
Audit Trails
Blockchain secured
Blockchain

Legal and compliance teams need access to a wide range of corporate content for ediscovery purposes: revision-proofing, legally required deadlines, and automated document deletion upon expiration. Modern CSPs like Papyrus allow users to perform advanced searches in the archive (using document indexes, full-text search, or taxonomy searches) and retrieve any stored communication for document viewing, reprinting, resending to the end customer, or for any other purpose, as needed. By harnessing the potential of blockchain technology, Papyrus has created a blockchain ecosystem that guarantees the originality of every document, transaction, content, and message.
Papyrus Enterprise Content Management Platform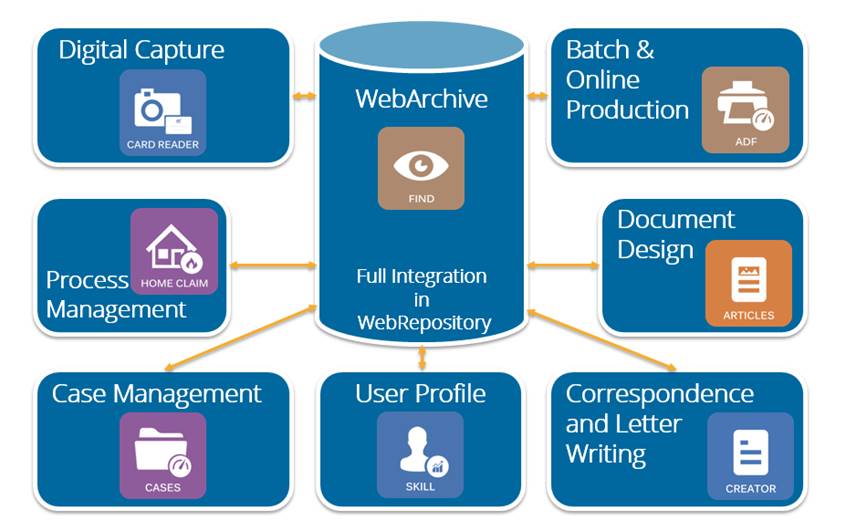 Providing the foundation of your digital transformation:
Self-service for customers and employees: Deliver real-time, personalized customer experiences through easy-to-use digital services and self-service
Enterprise content services for work: Improve content access by connecting to core business applications like Salesforce, SAP, or Guidewire and ensuring secure access to data, documents, and information for employees to work and collaborate across people and processes independent of their location or device
Data protection and content archiving for legal compliance: Ensure legal compliance and security for all corporate content in line with growing data protection, compliance, and security guidelines