Digitizing the Customer Communication
Reinvent the customer engagement and enable a seamless, relevant, real-time experience across all channels
Business-managed online channel applications
Omni-channel enabled conversation across customer touch points
Electronic enrollment and online Purchasing
Self-service, live chat and notifications
Optimized for mobile and tablet, as well as desktop/laptop
Direct link to back office with immediate processing and personalized response in real time
Multichannel delivery of e-documents, forms and confirmations
Adaptive Case Management for collaborative work in back office
Business communication today has to go farther than being only personalized or multimedia or even responsive. While seamlessly switching between channels and devices, what customers expect from companies today is understanding their needs and providing the right content and service - in the context of the customer - across all channels, exactly when and where needed, in real time. Not more and not less.
Cross-industry solution that integrates flexibly with your business applications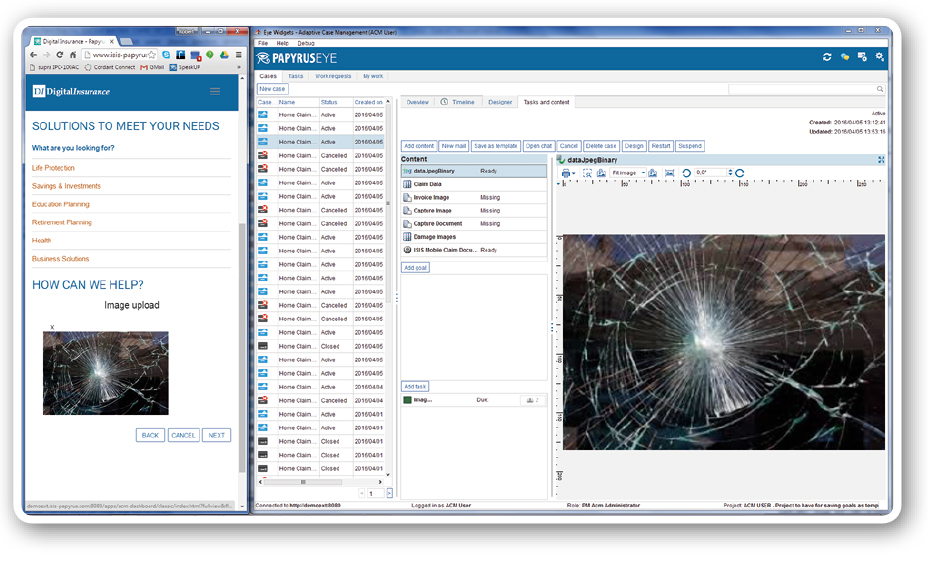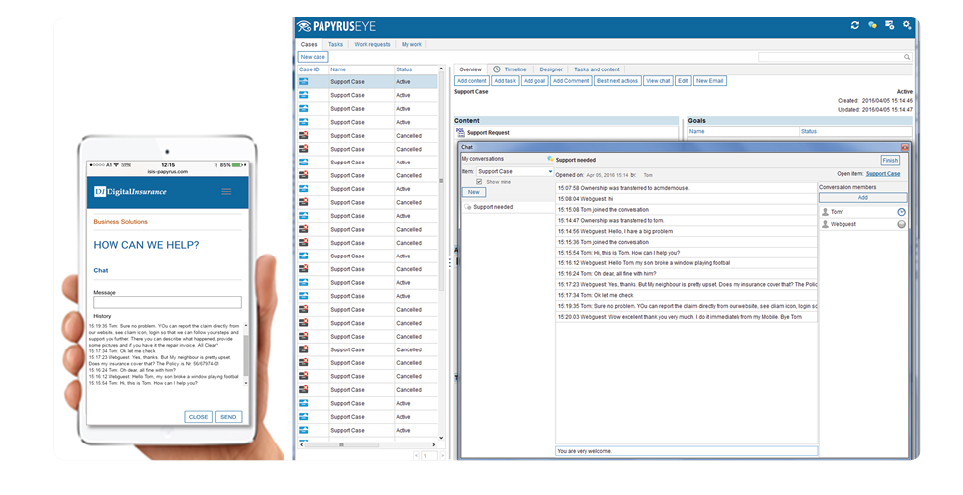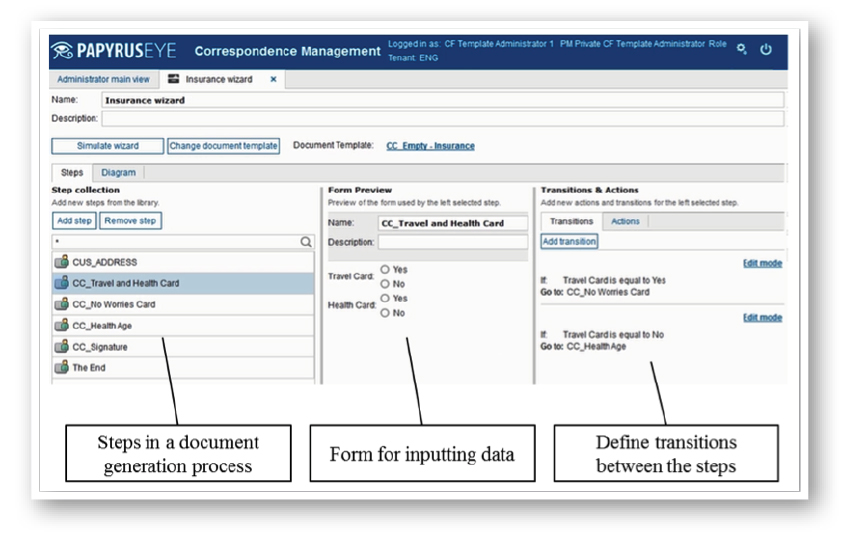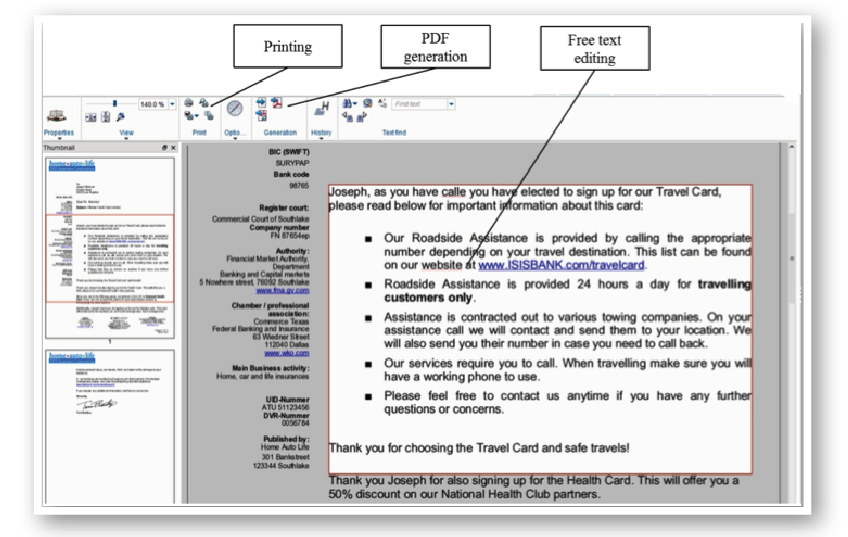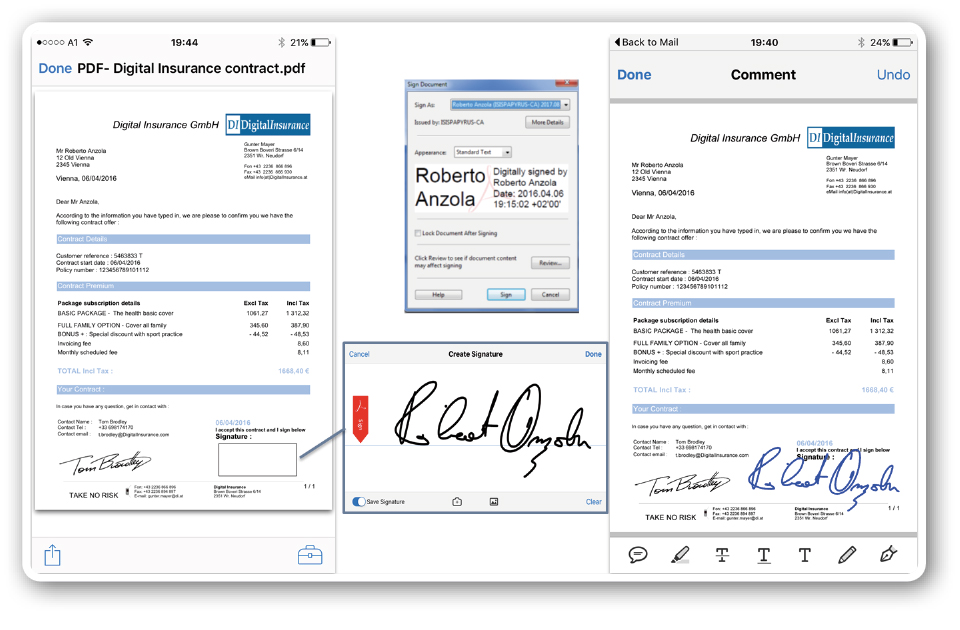 Digital customer is not a special kind of customer - it is everyone
Digital customers are on the go and they want the business world to keep up. While companies need to make strategic decisions about how they're going to address digital in the long run, the first step is the obvious one - quickly and effectively connect with the customer, by consistently leveraging existing assets to work equally well in the digital world.
Do you speak Omni-Channel?
Engage customers in conversation while they move seamlessly from device to device via your online channel applications - for product and service requests, online sales, customer self-service or direct claims submission - to provide convenience, speed and optimal user experience by delivering contextualized content and personalized services in real time.
Fast-track user requests with business process-driven solutions
Using the existing company Web site any number of customer-focused services can be provided with full access to the Papyrus WebRepository and key functionalities, such as Business Correspondence and Correspondence Wizard, Case Management, Outbound and Capture - working directly through this UI.
Offer real-time assistance
Allow customers to converse with agents via live chat by entering text questions and receiving real time responses with the entire communication automatically recorded and stored within the case. The captured information is available to employees during the case work and stored within the system to be used at any time for future evaluation and reporting.
Let business manage the online channel applications
Today, companies are introducing a new dual-level working approach that allows business players more freedom to act independently and focus on their strengths, while collaborating along clearly defined lines of responsibilities.
By taking a new approach, business users can quickly design and maintain content and processes without direct IT involvement using intuitive tools for document and process design, while IT provides support with more complex and technical tasks, such as integration to external systems and services, as needed.
Make doing business with you easy
By taking an uncomplicated conversational style, customers can get engaged in a cooperative interaction - guided easily and efficiently through the process of conveying their needs, with answers securely transferred to backend systems immediately as entered. The associated document processes will dynamically perform actions, connect to various back-end services and provide required data on the fly, while taking notice of every single piece of information and automatically creating ePolicies/eContracts/eOffers that cater directly to this customer's needs.
Automate on-the-spot
Whatever the intention-based scenario of the customer - learn, buy, know or do - depending on the device the time window for reaching them may be very small. This is why companies need on-the-spot content and decision making, so they can deliver the right content on the right channel at precisely the right moment for that particular prospect to quickly seize the opportunity.
Convenience and immediacy at the front-end is mirrored on the back-office side, where at each customer request new cases are instantly created, then directly followed by employees in various business departments who can track the content and customer actions as they occur and effectively interact with the customer via the Case Management system in real time. Supported by a single customer view and the contextualized multichannel content, they are perfectly positioned to put your customer-centered business strategy into practice and provide a great customer experience.