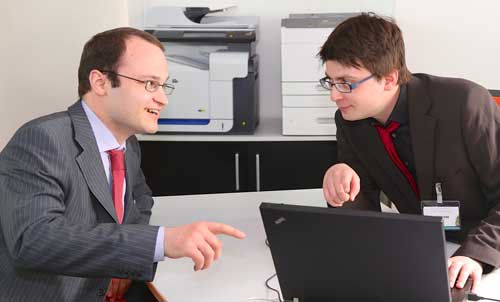 Project and Consulting Services
ISIS Papyrus understands the challenges large corporations face to produce, manage and distribute personalized, data-driven customer documents to remain competitive in today's market.
ISIS Papyrus consultants have the experience to analyze each corporation's unique business communication goals and then provide the tools and expertise necessary to produce high-volume, multichannel, 1:1 communications that significantly improve customer and prospect response rates as well as client satisfaction. This dramatically increases return on investment and sharpens the competitive edge.
While a Papyrus System installation and document design does not require custom programming, customers around the world do expect and receive a complete service package of analysis, training and implementation, provided by well-trained and experienced and knowledgeable Papyrus consultants available in every major country.
ISIS Papyrus offers a broad range of scalable services with maximum flexibility, tailored to each individual situation to support your Papyrus implementation from installation to production and beyond. We deliver all services in multiple languages using our own ISIS Papyrus personnel, and consultants are available to provide specific expert skills to assist with the full range of project phases and tasks, such as installation, configuration and application development.
To determine the appropriate services to configure the proposed architecture in a larger project, a scoping exercise is required to ensure accurate assessment of specifications, goals, challenges and pricing.
Training and Workshop Options
Because ISIS Papyrus is committed to enabling long-term self-support for all of our customers, we also offer a full range of technical training courses and workshops available on both a public schedule and onsite basis to meet the ongoing needs of your support teams.