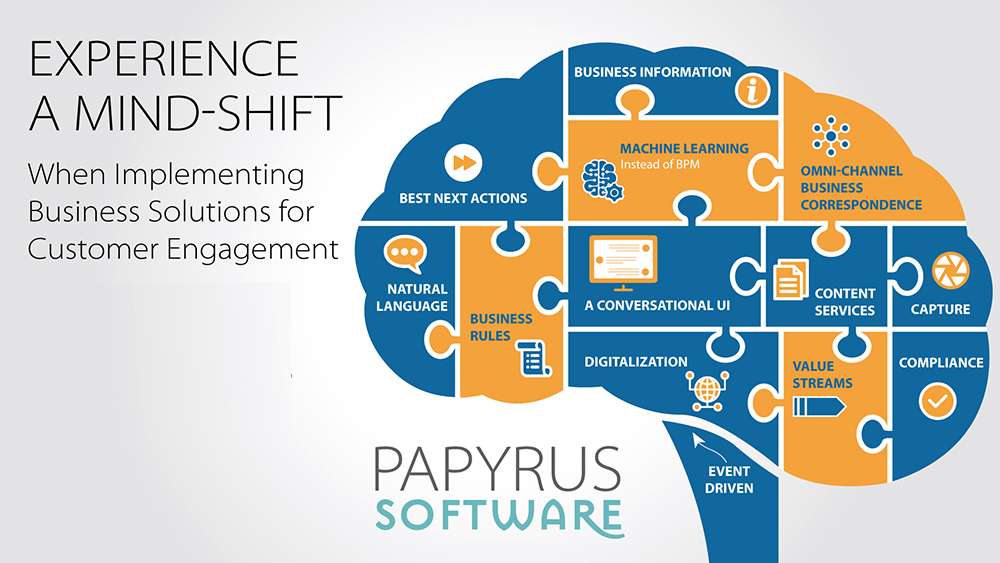 Join us at the Gartner IT Symposium/Xpo 2020 in Barcelona and learn how Papyrus Software can lead your organization's digital transformation initiatives.
Papyrus Software is a Proud Sponsor of this event will be exhibiting on the show floor. Follow us on LinkedIn or Twitter.
Discussion Topics
Adaptive Case Management (ACM)
Business Designer for Customer Communications Management (CCM)
Targeted Messaging & Campaigns
Intelligent multi-channel Inbound Mail Capture
ECM & Content Services

Output Management / ADF
Omni-channel Platform across Online Channel Applications and print
Incident Management / Ticketing
Mobile Business Applications
Converse puts Business First™
1) Papyrus Adaptive Case Management (ACM)
Papyrus Adaptive Case Management (ACM) supports both structured processes and adaptive case management and handles complex customer and operational scenarios through an adaptive approach with content, data and processes unified in one collaborative environment. It is delivered as an Out-of-the-Box (OOTB) Framework to reduce time and complexity of delivering new business solutions and provides all means - architectural guidance, executable components and visual interfaces - for companies to rapidly compose and deliver unique business services at a fraction of cost and time.
2) Papyrus Business Designer for Customer Communications Management (CCM)
Papyrus consolidates all business communication on one platform and provides re-usability across communication types (Batch, Online, Interactive, On-demand), across channels and across Business and IT. The Papyrus Business Designer allows the Business to take ownership and design, maintain and sign-off modular document building blocks and templates in an easy, WYSIWYG and drag & drop way. Change Requests are substantially shortened - a change is handled by the Business in one place and processed by integrated Change & Release Management in a fast and managed way all the way to production.
3) Papyrus Omni-channel Platform across Online Channel Applications and print
Papyrus powers customer experience (CX) processes connecting the customer-facing front-office with the operative back-office for an effortless customer engagement and customer self-service. Interconnected online and off-line channels help companies flexibly engage with customers via an individual two-way, real-time Omni-channel customer communication across touch points and channels - online via live chat, SMS, e-mail, social, mobile or Web or traditionally via paper – creating uninterrupted customer journeys that will meet new customer communication demands.
4) Papyrus Intelligent multi-channel Inbound Mail Capture
Papyrus Document Capture automates all inbound channels providing a self-learning, user-trained document/data capture solution with one single definition. It ingests even unstructured communication such as e-mails, extracts relevant data, and distributes it to enterprise applications, individual or department inboxes, or directly to customer cases and processes based on rules, cutting processing times from days to hours. The state-of-the-art, self-learning classification process and machine learning increase accuracy and efficiency, limiting human interaction to QA or exception handling.
5) Papyrus ECM & Content Services
Papyrus Content Management provides content services in a collaborative environment supported by the Papyrus Adaptive Case Management (ACM) and an integrated archive with retention policy, storing and uploading any document, video, voice or data from any source including processes. Knowledge workers have all information needed at hand and efficiently create, retrieve, review, revise, and securely share business content supported by the 360-degree view of the customer, content services to govern documents and collaboration capabilities to discuss, annotate, and track tasks on works in progress.
6) Papyrus Output Management / ADF
Papyrus communication design and delivery allows companies to have a single template for all output channels. Transformation to the target channel (PDF, e-mail with HTML or PDF attachment, SMS, Web, Mobile, IPDS, PCL, Postscript, IJPDS, Fax, etc.) is performed only at distribution time for utmost channel independence. Papyrus Automated Document Factory provides central management of all digital and printed output including tracking, tracing and monitoring of all job, starting with receiving the data and completing when documents are archived, with an end-to-end visibility of all operations.
7) Papyrus Targeted Messaging & Campaigns
Papyrus comes with an integrated Targeted Messaging Framework and offers an Omni-Channel Campaign Solution designed for the Business. Business users can plan multi-step campaigns, design and edit campaign content across multiple channels, and evaluate and report on campaign and channel effectiveness. Targeted Messaging provides dynamic inclusion of business messages in transactional documents based on available space, document context, language, message priority and/or current campaigns, with support for various message types and content and delivery across digital and traditional channels.
8) Papyrus Incident Management / Ticketing
Papyrus Ticketing Solution connects incoming requests with the right systems and people across departments, and guides the user step-by-step through the ticket case resolution. A ticket case provides a 360° view of all relevant documents, customer specific information, incoming and outgoing communication, evidence data, rules and any other information needed to successfully process and manage the incident. The solution is based on an integrated, award winning Papyrus ACM Framework and can be easily modified and tailored to fit the needs of any required business process now and in the future.
9) Papyrus Mobile Business Applications
Papyrus provides a complete solution for enterprise mobility that is changing the way organizations work. Companies can create their own in-house app store and define and release business applications at any time. Any application developed on Papyrus can be easily made available on mobile devices (Google Android, Apple iPhone, iPad and iPod Touch) with access to applications granted to employees to perform their work and communicate, take actions, track tasks and to dos, send requests and receive notifications, with direct back office, CRM, BPM, ERP and database integration, while on the go.
10) Papyrus Converse puts Business First™
Organizations have a huge backlog delivering and improving digital business solutions. Papyrus Converse parts from the industrial-era design in order to enable organizations to become more adaptive and bring new ideas into execution in fraction of time and cost. Business users are empowered to take ownership over modelling and execution of the value streams and can quickly develop new business capabilities in unique and creative ways to outperform the competition. They work in an assisted way using business language, a rule book and a conversational user interface - there is no coding needed.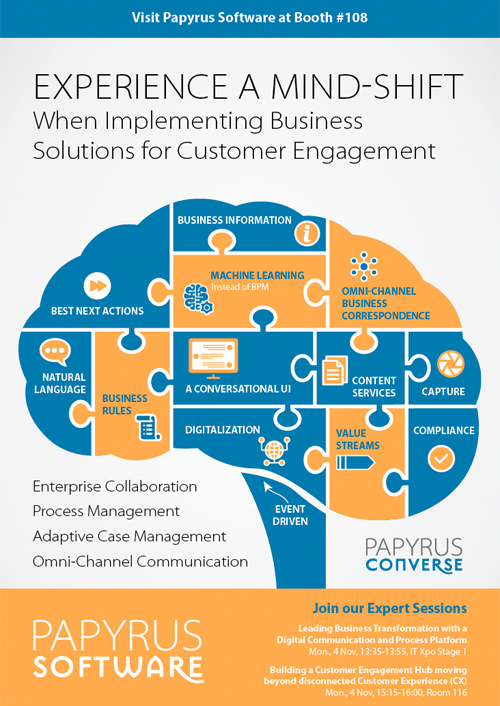 Building Business Value Streams
Gartner Peer Reviews: